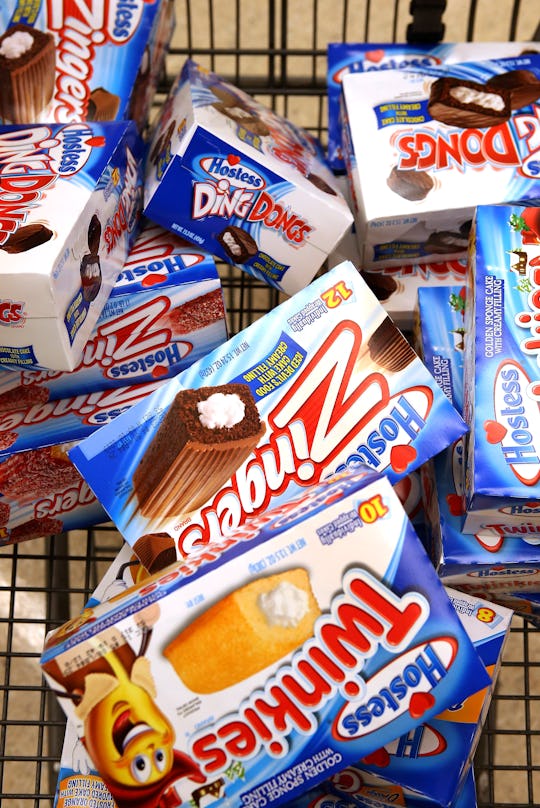 Scott Olson/Getty Images News/Getty Images
What UPC Codes For Hostess Snacks Are Included In The Recall? They May Not Be Peanut-Free
If you or someone you know has a peanut allergy, you'll want to double-check the UPC codes on any Hostess products you might have purchased recently. According to CBS News, Hostess Brands LLC announced a voluntary recall of 710,000 cases of its snack products Friday, after learning that they were made with recalled Grain Craft flour. The flour was reportedly potentially contained peanut residue, which could be deadly to individuals with severe peanut allergies. While Hostess has said that its recall has been announced "out of an abundance of caution" (the risk of allergic reaction from the Hostess products is real, but very low), it's best to either return the product back to the store where it was purchased or to just throw it out. What UPC codes for Hostess snacks are included in the recall? The FDA has released the list.
According to the FDA, the products involved in the recall involve fresh and frozen "single serve snack cakes and donuts, multipack boxes and bagged donuts," and were sold to retailers throughout the United States and Mexico. They include Chocodiles, Ding Dongs, and Zingers, as well as chocolate, crunch, devil's food, maple, powdered and glazed mini doughnuts. All other Hostess products remain unaffected.
UPC codes for the recalled products are listed below. Batch numbers and best by dates can also be found on the FDA website.
Chocodiles
888109110499 (multipack)
888109010492 (snack-size)
Ding Dongs
888109110611 (multipack)
888109010027 (snack-size)
Zingers (Chocolate Flavored)
888109110581 (multipack)
888109300036 (snack-size)
888109010058 (snack-size)
888109000202 (snack-size)
888109000356 (snack-size)
Zingers (Raspberry Flavored)
888109110604 (multipack)
888109010089 (snack-size)
Zingers (Vanilla Flavored)
888109110598 (multipack)
888109300029 (snack-size)
888109010119 (snack-size)
Chocolate Donuts
888109150020 (bag)
888109110239 (bag)
888109300067 (singles)
888109050023 (singles)
Crunch Donuts
888109110642 (bag)
888109110659 (bag)
888109300081 (singles)
888109050054 (singles)
888109000332 (singles)
Devil's Food Donuts
888109150037 (bag)
Glazed Mini Donuts
888109110659 (bag)
Maple Donuts
888109111243 (bag)
Powder Donuts
888109150044 (bag)
888109110246 (bag)
888109050047 (singles)
According to the FDA, Hostess has received two calls regarding allergic reactions from the recalled products. Any consumer with questions about the recall can 1-800-686-2813 or visit the Hostess website.