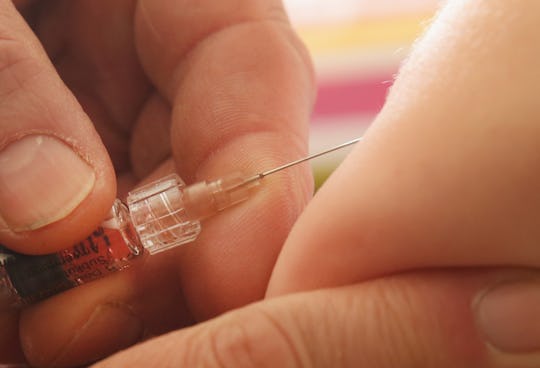 Sean Gallup/Getty Images News/Getty Images
Here's What Vaccinations Parents Need
On Monday, as part of its annual vaccination guidelines, officials from the United States Centers for Disease Control and Prevention's advisory committee on immunization practices released new recommendations for hepatitis B, influenza and HPV vaccines. And although parents are usually more on top of their children staying up to date with vaccinations, since they are often required to be current on their vaccinations or receive a special waiver in order to attend public school, there are no requirements for adult or parent vaccinations. So, what vaccinations should parents get? New CDC guidelines are out, and they can point adult patients in the right direction.
The 2017 report, an advisory for recommended shots impacting adults, came out this week, and the list includes 13 vaccinations. The guidelines are the same ones your doctor should be consulting when you go in for your annual visit, and it's probably a good idea to schedule one of those now if you haven't been in awhile. However, the CDC also found that one barrier to vaccine coverage could be caused by physicians themselves — it reported that, "approximately 25 percent of internists felt age-based vaccination recommendations for adults were difficult to follow." So it can't hurt to arm yourself with knowledge before you make your visit.
So which vaccinations should adults get, according to the new CDC guidelines? Well, according to the report on the CDC's website, "you should get the flu vaccine every year." However, the agency also has new recommendations for the common vaccine. Apparently, according to ABC News, "the CDC recommends using the common injection flu vaccine, not the nasal mist, which was found to be less effective in studies."
Additionally, according to CBS News, there's another change in regard to the flu vaccine:
The "major change" is that egg-allergic people, whether they have mild or more serious allergy, "can receive any age-appropriate" flu vaccine, said Dr. Sandra Fryhofer, a general internist in Atlanta. She is the American College of Physicians' liaison to the ACIP and served on its adult immunization work group.
Last year, people with more serious egg allergy were advised to stick with an egg-free flu vaccine, she explained.
Adults should also stay up-to-date on their Tdap vaccine. According to the report, only 20 percent of adults 19 and older have had a Tdap vaccine — which protects against tetanus, diphtheria, and pertussis (whooping cough). A booster for that particular vaccine is recommended every 10 years.
And listen up, parents: the report also recommends that, "women should get a Tdap vaccine during every pregnancy to help protect the baby." Like several other vaccinations in the report, it's recommended for you unless your healthcare professional tells you that you shouldn't get it or don't need it.
The CDC also recommends that adults receive two doses of the meningitis vaccine, or three if there is a meningitis outbreak, or the adult is at increased risk, and, "you should get HPV vaccine if you are a woman through age 26 years or a man through age 21 years and did not already complete the series." According to ABC News, "for the HPV vaccine, the CDC now recommends only two doses five months apart, if started before age 15. If the vaccination is started after age 15, then three doses are recommended."
In addition, adults with HIV should receive a two-dose series of MenACWY, according to the CDC, and those with chronic liver disease or liver enzymes that are at risky levels should receive the hepatitis B vaccine to protect the liver from infection.
What does this all mean for parents? Again, the CDC recommends that women get a Tdap vaccine during every pregnancy to help protect the baby. In general, they also recommend getting the MMR — measles, mumps, and rubella vaccine, the HPV vaccination, a vaccination for chickenpox, and the Hepatitis A and B vaccines if you did not receive them when you were a child.
By getting your recommended vaccinations, you're taking care of your own health as best as you can, and setting a good example for your kids at the same time. Take a look at the report on the immunization schedule for adults aged 19 years or older for 2017 here.