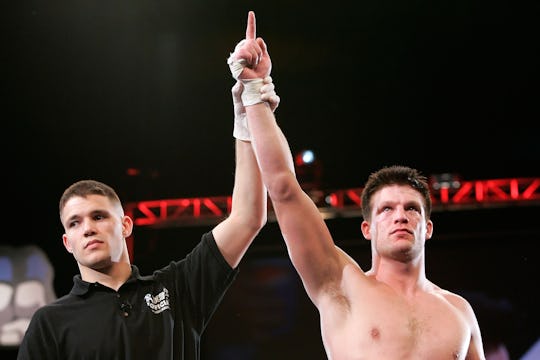 Brian Bahr/Getty Images Sport/Getty Images
What Was Bristol Marunde's Job Before 'Flip Or Flop Vegas'?
Earlier this month, HGTV announced that everyone's favorite home improvement spin-off, Flip Or Flop Vegas would be renewed for a second season. That means fans will be treated to another year of 30-minute episodes featuring the Marundes and their savvy business mind. But what was the couple doing before starring in their own hit show? What was Bristol Marunde's job before Flip Or Flop Vegas? It may not be what you think.
Before buying, fixing, and flipping houses in Sin City, Marunde was a professional mixed martial artist. According to People, his first MMA fight happened in 2005 in Atlantic City, New Jersey. But his time is the ring is not over; Marunde told the outlet in April that he's not allowed to fight during filming, but will schedule a fight once the cameras are off.
According to Sherdog, the Arkansas-born Marunde is a welterweight champion who's won 16 fights — and lost 10 — since starting his ultimate fighting career. He was defeated by fighter Gilbert Smith in his last pro match, which took place on Oct. 9, 2015. Marunde, now 35 years old, was also a contestant on Season 16 of The Ultimate Fighter, but didn't get a fight in the finale, according to SB Nation's Bloody Elbow blog.
According to People, HGTV's Flip Or Flop Las Vegas is the first of five national spinoffs of the successful home renovation series. The show will expand to four other cities, including Chicago, Nashville, Atlanta, and an unnamed Texas city, the outlet reported. Flip Or Flop Vegas premiered April 6 and it's already a hit.
On Flip Or Flop Vegas, Bristol Marunde is in charge of construction, while wife Aubrey handles the design. Focus on their career as flipping gurus, Flip Or Flop follows the pair as they renovate long neglected properties and turn them into livable gems. The new show, along with the four other spinoffs, will follow a similar formula to the original Flip or Flop series, but Bristol told People,
You're not going to see the same thing over and over.
Bristol and Aubrey's story as a couple actually begins in the ring. According to HGTV, the pair met in 2009 at a UFC fight. They fell in love on the first date and, since then, went on to raise two boys and build "a flipping empire." Season 1 of Flip Or Flop Vegas has been an entertaining ride, so there's no doubt Season 2 will deliver.