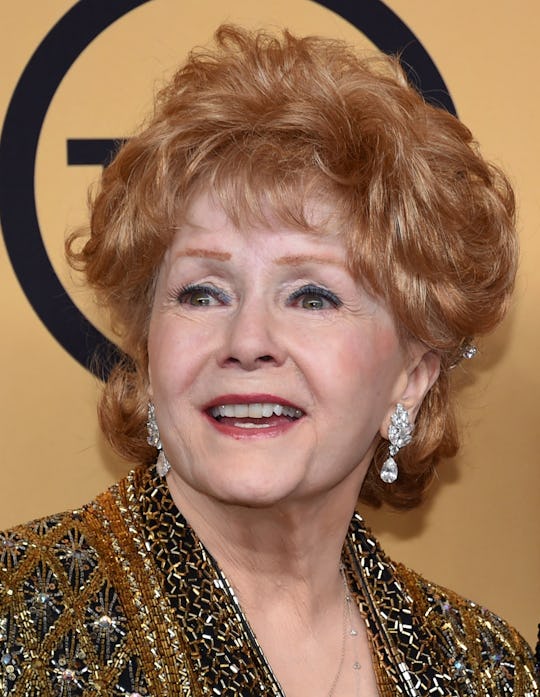 Ethan Miller/Getty Images Entertainment/Getty Images
Debbie Reynolds' Net Worth Didn't Matter To Her
On Wednesday, just one day after her daughter's own untimely death, actress and singer Debbie Reynolds died. She had reportedly been visiting her son, Todd Fisher, to discuss her daughter's funeral plans when she possibly suffered a stroke and was rushed to the hospital, according to TMZ. The self-made star was well-known in Hollywood for her roles in films such as Singing in the Rain and Tammy and the Bachelor. After she reached stardom in the 1950s, she went on to own a hotel, open her own non-profit, and write her own memoir, leading some to wonder: What was Debbie Reynolds' net worth when she passed away?
Reynolds pursued her fair share of endeavors and continued to work hard even at 84, but she also ran into a few economic troubles throughout her life. Estimates place Reynolds' net worth at around $60 to $85 million, according to The Richest and Celebrity Net Worth — however, in interviews, Reynolds said she hadn't held onto her cash.
In 2009, she told The Wall Street Journal that she still worked 42 weeks a year. Prior to 1970, Reynolds explained, actors didn't receive residuals for their work, and the famous films she starred in all came out in the 1950s. It wasn't a huge point of huge contention for her, however: "If I made a fortune, the husbands would have gotten it," she told The Wall Street Journal.
Unfortunately, Reynolds' husbands were notorious for spending her money. Reynolds' second husband, Harry Karl, reportedly gambled away her wealth, while her third husband, Richard Hamlett, invested her money so unwisely that it forced Reynolds to give up her Las Vegas hotel and declare bankruptcy.
"Three strikes and you're out," Reynolds told USA Today in 2013. "I've never been able to judge men properly. [Hamlett] had a girlfriend for years before me and saw money signs when he married me. I'm not good in math or marriage."
Reynolds didn't take her fame or fortune too seriously, however. After a decade of estrangement from her daughter Carrie Fisher, who died on Tuesday, Dec. 27, Reynolds was happy to be a part of Fisher's life and live next door to her daughter, as she continued to write. When Fisher died, Reynolds wrote on Facebook:
Thank you to everyone who has embraced the gifts and talents of my beloved and amazing daughter. I am grateful for your thoughts and prayers that are now guiding her to her next stop. Love Carries Mother.
Reynolds is survived by her son, Todd Fisher, and four grandchildren.