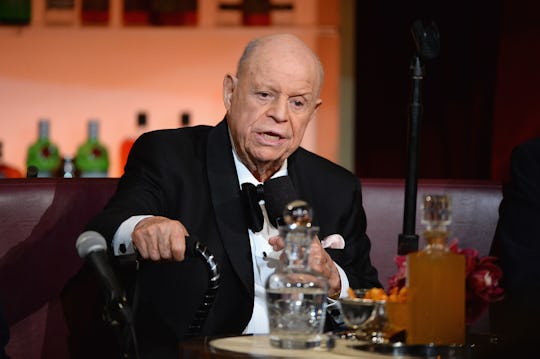 Theo Wargo/Getty Images Entertainment/Getty Images
Don Rickles' Impressive Net Worth
Don Rickles, one of the most iconic and abrasive comedians in history, has died at the age of 90, TMZ reported. The legendary funnyman reportedly died of kidney failure at his home in Los Angeles on Thursday morning with his wife, Barbara, by his side. He will long be remembered for his impressive career that spanned over six decades and Don Rickles' net worth reflects just that — many years in the business that made him one of the most well known comics of our time.
From his classic nightclub performances that got him started in the early 1950s to his late success as the voice of Mr. Potato Head in the Toy Story films, Rickles had earned a substantial net worth that is estimated to be around $30 million, according to The Richest.
The American stand-up comedian was quite possibly best known for his unique brand of insult comedy — an interactive relationship with the audience that he initially adapted to silence his hecklers — and ultimately became the "master of celebrity roasts," as The Guardian dubbed him. Over his long career, Rickles roasted a long line of Hollywood A-listers, including Frank Sinatra, Dean Martin, Suzanne Somers, Mr. T, Joan Collins, and even President Ronald Regan.
Here's one of his most infamous roasts:
Rickles was not only one of the best insult comedians out there, but he was also an honorary member of the Rat Pack and had a notable acting career as well. According to Forbes, he appeared in 1970 movie, Kelly's Heroes, with Clint Eastwood, as well as starring in his own NBC series, CPO Sharkey, which began in 1976 and lasted for two seasons. Most recently, in addition to his credits in the Toy Story franchise, he played a casino manager in Martin Scorsese's 1999 film, Casino.
Despite his age, Rickles occasionally dropped by late-night talk shows subsequent years, visiting such shows as Jimmy Kimmel Live! and The Tonight Show Starring Jimmy Fallon, as recently as a few months before his death.
Here he is heckling Fallon and The Roots in 2015:
As Forbes reported on Thursday, his love for his work couldn't be stopped by his age as he still even had plans to perform a show in Las Vegas in February of next year.
Not only was Rickles a comedic mastermind who will be remembered for decades to come, but he was a loving father as well as a devoted husband to his wife of more than 50 years, Barbara. While net worth might be one way to gauge someone's success, Rickles' knack for making insults legendary as well as his long-lasting influence in the industry stands out even more.