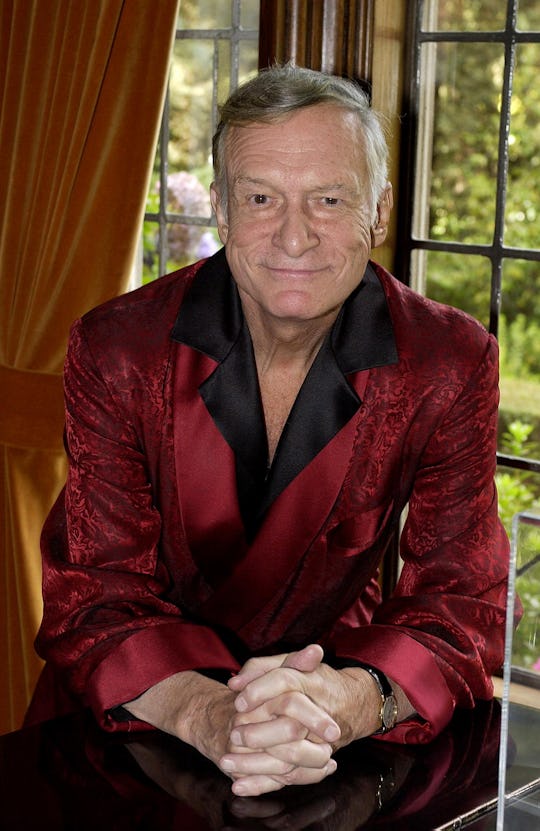 RICH SCHMITT/AFP/Getty Images
Hugh Hefner's Net Worth Is A Staggering Display Of His Legacy
Late Wednesday night, news broke that Playboy founder and physical embodiment of the Playboy brand, Hugh Hefner, has died. The publishing icon was 91 when he died, and was reportedly at his home when he passed (the Playboy Mansion). Hefner leaves behind quite a bit after his passing: children, a wife, and of course, his Playboy fortune that he has accumulated in the last 64 years since the brand was created. With that in mind, you may be wondering what Hugh Hefner's net worth is, and let me tell you, it is a lot.
The news of Hefner's passing was first released by Playboy Enterprises in a statement to the site:
Hugh M. Hefner, the American icon who in 1953 introduced the world to Playboy magazine and built the company into one of the most recognizable American global brands in history, peacefully passed away today from natural causes at his home, The Playboy Mansion, surrounded by loved ones. He was 91 years old.
In his 91 years, Hefner was able to amass quite an empire surrounding the Playboy brand and its many initiatives. Whether you support it or not — Playboy's legacy has a strong and hard to ignore history of objectifying women — you know about Playboy and you know about the lavish lifestyle of Hefner. (He was on MTV's Cribs at one point, showing off his hidden "grotto.")
In 2009, Hefner's net worth became public due to filing for divorce with his then-wife, Kimberley Conrad. Newsweek states it was $43 million then, but that doesn't include the sale of his infamous mansion for $100 million in 2016. According to the Los Angeles Times, Hefner's home was bought from him, but he was allowed to live there for the rest of his life, with a $1 million annual renter's fee.
Newsweek also researched and outlined Hefner's finances as the following at the time of his death:
Hefner owned 35 percent of the Playboy brand and all of the actual magazine, the website reported. He had $36 million in stocks and bonds and another $6 million in a joint account with an unnamed person, with the rest in cash. Hefner made a little more than $100,000 a month from the magazine, the rest coming from a pension and retirement, interest and other ventures.
Hefner had four children, Cooper, Christie, Marston, and David. Cooper Hefner released the following statement after his dad's death, remembering his father for all he contributed to the industry.
My father lived an exceptional and impactful life as a media and cultural pioneer and a leading voice behind some of the most significant social and cultural movements of our time in advocating free speech, civil rights and sexual freedom. He defined a lifestyle and ethos that lie at the heart of the Playboy brand, one of the most recognizable and enduring in history."
He will be greatly missed by many, including his wife Crystal, my sister Christie and my brothers David and Marston, and all of us at Playboy Enterprises.
Hefner was married to Crystal Harris, who is 60 years younger than Hefner. The two married in 2012, on New Year's Eve. The Daily Mail reports that Harris will allegedly inherit nothing from Hefner's fortune with the news of his death, after "signing an ironclad prenup before their wedding and was never added to his will." This information has not been confirmed by Harris herself.
Watch Romper's new video series, Romper's Doula Diaries:
Check out the entire Romper's Doula Diaries series and other videos on Facebook and the Bustle app across Apple TV, Roku, and Amazon Fire TV.