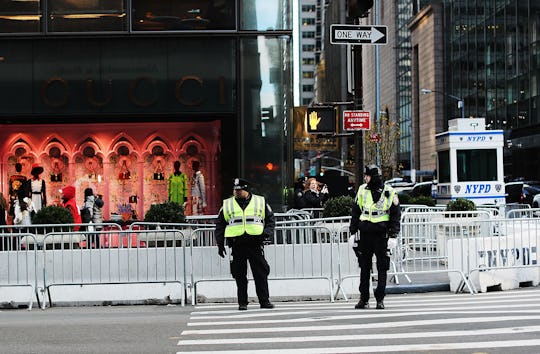 Spencer Platt/Getty Images News/Getty Images
Santa Reportedly Left Something At Trump Tower
On Tuesday evening, the Trump transition team had a bit of a scare. All of Trump Tower was evacuated because of a suspicious package. Luckily, it was just a bag of toys left behind in the New York City building's lobby. Even luckier is that President-elect Donald Trump was not in the building at them time since he's spending the holiday week with his family in Florida. The New York City Police Department said that the package was investigated by the bomb squad and Secret Service is also looking into the situation.
The lobby was mainly full of tourists around 4:30 p.m. ET when a kid's backpack was spotted in the atrium by Nike Town, according to The New York Post. Officials immediately cleared the building and brought in a bomb sniffing dog who then sat on the bag, which normally indicates that the package is a bomb, but upon further investigation it was just toys. New York City police tweeted that, "Suspicious package at Trump Tower has been examined by NYPD Bomb Squad. Deemed to be an unattended bag and safe."
Kids, right? The good news is that the New York City mantra of "if you see something, say something, does work.
The whole investigation took about a half hour to conduct and by 5 p.m. ET, the situation was all under control. While the building was partially evacuated the area surrounding the skyscraper was also shut down between 59th and 50th streets and Madison Avenue and 6th Avenue for the duration of the investigation.
Security issues at Trump Tower have been a concern for New Yorkers since his election in November. In addition to extra New York police, the Secret Service is also an ongoing presence. In fact, the building is so secure that it's actually being billed that way to prospective buyers. Original estimates put the cost of security around Trump Tower at around $1 million a day and New York City mayor Bill De Blasio has asked President Obama and Congress for a reimbursement to offset the costs.
De Blasio wrote to Congress that the area is trafficked by "hundreds of thousands" of people in any given moment, according to CNN Money. "This is a highly-trafficked, dense urban environment, and one that presents an unprecedented and unique target for potential terrorist activity. No other President in modern history has had his primary residence located in such a densely-populated neighborhood," the mayor wrote.
It's also a cost that comes directly from New Yorker's taxes and there are currently no laws on the books for the federal government to reimburse a city for housing a president-elect. There's a 1976 federal code that only lets cities of up to 7,000 people ask for federal reimbursement, but the caps on the repayment are "drastically inadequate," De Blasio wrote. The GOP offered New York City $7,000 which is way less than the $35 million the city asked for.
With Trump and his family planning on staying in Manhattan for much of his term, the security costs are likely to accumulate. Tuesday was luckily a just a leftover holiday scare, but New Yorkers should definitely be aware moving forward about threats to the city and the cost of protecting.