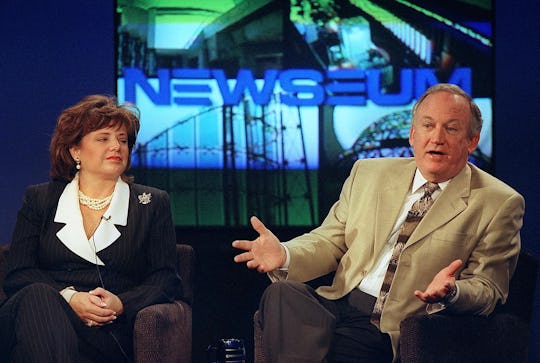 MARIO TAMA/AFP/Getty Images
What Was John Ramsey's Job? The Family Was Extremely Wealthy
The Case of: JonBenét Ramsey premieres on CBS Sunday, Sept. 18, and, among the curious elements of the 1996 murder case that the docu-series will unpack is the infamous two-and-a-half page ransom note found in the Ramsey home after her disappearance. One of the reasons this piece of evidence was considered so bizarre at the time of the case is because it demanded $118,000 in exchange for JonBenét's safe return — an amount almost identical to how much John Ramsey had just earned in his end-of-year bonus. So what was John Ramsey's job? The Ramsey family was definitely super wealthy.
His net worth in 1996 was reportedly around $6.4 million, which isn't surprising considering his line of work. Ramsey was the president and CEO of a computer services company called Access Graphics, which, at the time, was a subsidiary of Lockheed Martin and would later be sold to General Electric. Before he became a part of that group, he founded Advanced Product Group, which was one of three companies that eventually merged to become Access Graphics.
John Ramsey was a fairly high profile businessman in the city of Boulder, Colorado, where the family lived. His daughter, JonBenét, was murdered after Christmas in 1996, the same year that her father had been named Entrepreneur of the Year by the Boulder Chamber of Commerce and the same year that his company cleared over a billion dollars.
After his daughter's murder, Access Graphics instated a temporary CEO to fulfill Ramsey's duties so that he could grieve his daughter (and deal with the impending fallout of being implicated in her murder himself). Although he was never charged with a crime, a grand jury did vote to indict JonBenét's parents for her murder in 1999 — a charge the District Attorney at the time would refuse to file. John Ramsey eventually left his job to relocate his family back to their Michigan, where he had gone to college. They moved into the family's summer home full-time as their son Burke was entering high school.
As for the significance of John's job and high-powered position in the community to the case, we'll have to wait for the docu-series premiere this September to see what the experts make of it.