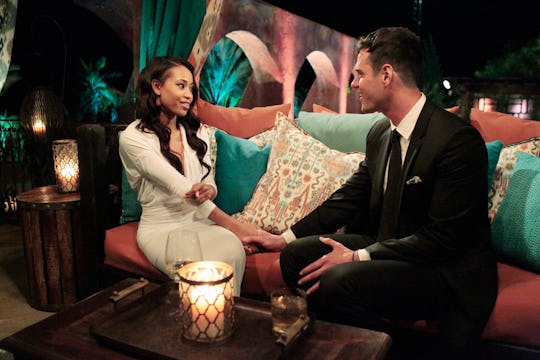 What Was Jubilee's Role In The War In Afghanistan? She Wasn't Behind A Desk
Let's face it: When it comes to The Bachelor, the girls' backgrounds pretty much run the gamut. While there are plenty of, um, interesting characters on the show, one contestant who has caught a ton of people's interest is Jubilee Sharpe, a 24-year-old veteran from Fort, Lauderdale Florida. Though that aspect of her life is certainly interesting, viewers haven't heard much from her about her military background or and many don't even what Jubilee's role was in the war she served in. Fortunately, her social media holds all the answers.
After taking a peek at Jubilee's social media, it is clear she is proud of her military background. While, there isn't much info out there about what she did, her social media provides several clues. For starters, in May 2011 Jubilee tweeted "Osama Bin Laden got killed an hour away from me by our special forces team! Now can I PLEASE leave Afghanistan and come home?," meaning she was probably involved in Operation Enduring Freedom, which was concentrated in Afghanistan. According to CNN, the mission began on Oct. 7, 2001 and was intended to stop Al Qaeda from using Afghan bases for terrorist activities following the Sept. 11 attacks.
While Jubilee hasn't disclosed her role in the war to The Bachelor or anywhere online, her Instagram provides a few clues. Though the 24-year-old has plenty of bikini pics (she's also a part-time model), Jubilee knows her way around a gun. Two weeks ago Jubilee Instagrammed a pic of her Army squad, saying "We are certified killers....don't be deceived by the smiles! #Army #mysquad #killers." So not only is she athletic, as the pic shows, but she is a quite the markswoman.
It is undeniable that her military background is badass on its own, but it looks like Jubilee is well-versed in medicine. It looks like in between touring she's working towards a cardiovascular sonography degree. Practitioners, who are called cardiac sonographers or echocardiographers, use "ultrasound[s] to examine the heart's chambers, walls, valves and vessels," according to Thomas Jefferson University. In addition to ultrasounds, the University said people who work in the field also use other "sophisticated diagnostic ultrasound imaging machines and transducers that use high-frequency sound waves to produce dynamic visual images to complete important tasks."
The means that Jubilee's position in the war in Afghanistan probably had her somewhere between combat and medicine.
So if this whole finding-love-on-primetime-TV thing doesn't pan out, Jubilee has a ton of other stuff going on.
Image: Rick Rowell/Disney ABC Television Group; jubilee1991/Instagram (4)