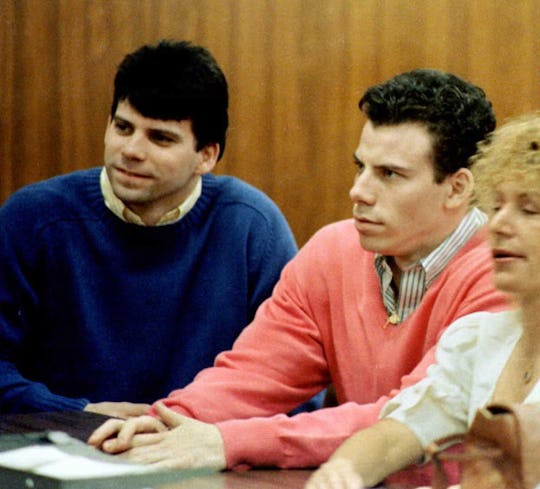 MIKE NELSON/AFP/Getty Images
Kitty Menendez Had The Most Important Job Of All
On the night of Aug. 20, 1989, Lyle Menendez made a 9-1-1 call, reporting that he and his brother Erik had found their parents, Jose and Kitty Menendez, dead in their Beverly Hills home. It was almost six months before the brothers confessed to the murders themselves, which seemed to be fueled by the desire to gain their inheritance. Jose was a prominent account executive for Live Entertainment, a movie production company, but what was Kitty Menendez's job?
The murder victim had met Jose when they both attended Southern Illinois University and she went on to be a school teacher, but quit her job to be a full-time mom and housewife after Lyle was born. Almost three years later, Erik was born, completing their family and effectively keeping her at home and with her hands full in raising both boys for the rest of her life. In 1987, the family relocated to Southern California, where Jose had taken a job as chief account executive at Live Entertainment. However, two years later, both Erik and Lyle murdered their parents in the family's $4 million home.
Now, ABC is set to air a brand new two-hour documentary recounting the entire case of the Menendez brothers, titled, Truth and Lies: The Menendez Brothers – American Sons, American Murderers, which will air on Jan. 5 at 9 p.m. ET.
Although the brothers admitted to killing their parents in self-defense and distress over years of alleged sexual and emotional abuse, both of their court hearings found the claims to be without enough merit and both the brothers were sentenced to life in prison in two separate facilities. But why did the Menendez brothers also kill their mother, Kitty, when much of the abuse allegations were centered on Jose? According to the The New York Times, during one of Lyle's testimonies, he claimed that Kitty would often fly into rages, calling him a bastard, and that she had once, when he was seven years old, told him, "I wish you were never born."
Jose, who had a business reputation for being ruthless and cutting corners often, always seemed to excel in his different corporate positions at companies like RCA and Hertz. And while Kitty didn't work for most of their marriage, it's obvious that she didn't have to. Plus, being a mother is definitely a full-time job in and of itself.
Although the brothers were not under attack in the moment when they killed their parents, they claimed to have done so in fear of their own lives. But even though there was momentary hope in getting both of their separate cases down to manslaughter convictions, there wasn't enough evidence, short of what Erik and Lyle claimed themselves. Now, Erik is currently serving his life sentence at the Pleasant Valley State Prison, while Lyle is at Mule Creek State Prison where they will remain for the rest of their lives.