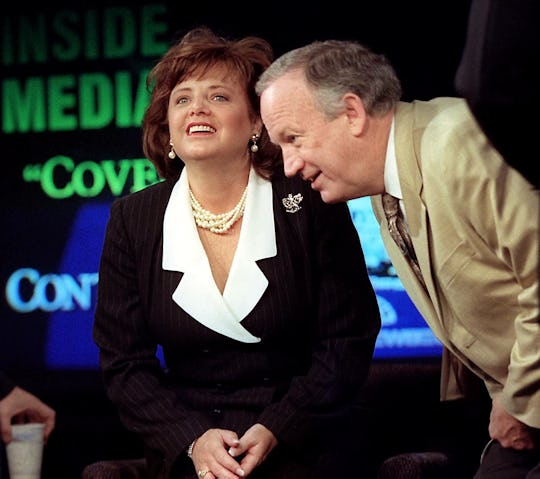 MARIO TAMA/AFP/Getty Images
What Was Patsy Ramsey's Job? JonBenet's Mother Dedicated Her Time To Her Kids
If people didn't hear enough about the Ramsey family in the late '90s, they're about to hear a lot more. On Sunday, Sept. 18, CBS will air a new docu-series, The Case Of: JonBenét Ramsey, investigating the 1996 murder of the 6-year-old beauty queen and taking a deeper look into the details surrounding the case. Details about characters close to JonBenét, specifically her family, will likely also be explored. Simple background questions like what Patsy Ramsey's job was are helpful in catching up viewers with the case's most basic details before the show premieres.
JonBenét was only 6 years old when she died and it was apparent in interviews given on TV that her death was deeply traumatic for her parents. The family's actions and appearances were no longer considered to be private — gone were the times where details could be kept to themselves. Instead, they were plastered across tabloid covers around the world.
But before the murder happened, it must be noted that the Ramsey's were just a normal family with two kids living in Boulder, Colorado. They had jobs, hobbies, and sent their kids off to school every morning. While it was known her husband was successful, what did JonBenét's mom, Patsy, do for a living? According to an obituary published in The Guardian, Patsy attended a university in her home state of West Virginia, where she studied journalism. While she was attending college, Patsy competed in and won the title of Miss West Virginia 1977. After graduating, Patsy moved to Atlanta, Georgia where she then met her future husband, John Ramsey. The obituary does not note Patsy's job leading up to JonBenét's death. She died tragically of ovarian cancer in 2006.
The lack of detail could be because Patsy's husband was the primary breadwinner of the Ramsey household — in fact, the Ramsey's were reportedly quite wealthy. According to the Daily Beast, John had built a "multi-million dollar computer company up from nothing." John's company, Access Graphics, had been sold to Lockheed Martin, which according to The Guardian made him a multimillionaire at the time of JonBenét's death. Ramsey had owned "three big homes" and "a plane, boats and cars."
A 1996 Woman's Magazine profile written about Patsy further proclaims that Patsy was a stay-at-home mother. According to the profile, Patsy was active in volunteering both at her children's schools and in the community and traveling with her husband — while also taking care of daughter JonBenét and son Burke. "Being a mother and mentor to my children is the most important role I will play in my life," Ramsey told the magazine. "It is certainly the most difficult job I will ever have." According to a 1997 People magazine story, Patsy was a "luminary on the social scene in Boulder" and donated her time to charities.
Being a full-time mother and volunteer is a very important job for many women that takes up a lot of time and demands a lot of hard work. It is very clear that Patsy was devoted to her children and family, before and after her daughter's death.