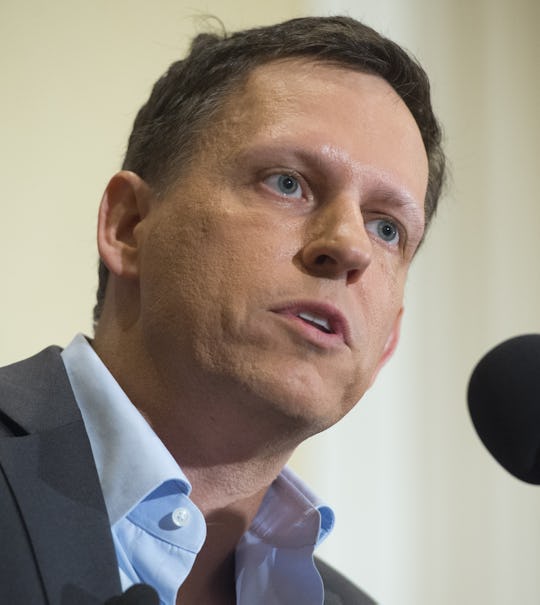 SAUL LOEB/AFP/Getty Images
What Was Peter Thiel Doing At Trump Tower? He's Been Helping Trump's Transition Team
On Wednesday morning, a group of some of the biggest names in tech joined President-elect Donald Trump for a meeting at the Trump Tower in New York. Among them was PayPal founder and billionaire venture capitalist Peter Thiel, who sits on Facebook's board and helps fund tech start-ups. Considering that the tech field doesn't usually intersect with politics too often, many wondered just what Peter Thiel was doing at the Trump Tower on Wednesday morning.
Essentially, Thiel was there to help connect Trump to the tech world and vice versa. While Wednesday's meeting may have been a more public display of Thiel and Trump's relationship, it's one that has already existed for a while: Thiel gave a speech supporting Trump at the Republican National Convention back in July (despite many Silicon Valley entrepreneurs' rejection of the hotel-mogul-turned-politician), and he supported the candidate repeatedly throughout his campaign.
"Today our government is broken," Thiel said during his RNC speech. "When Donald Trump asks us to Make America Great Again, he's not suggesting a return to the past. He's running to lead us back to [a] bright future. Tonight I urge all of my fellow Americans to stand up and vote for Donald Trump."
Thiel also backed Trump with more than just his words. During the last few weeks leading up to the election, Thiel pledged to donate over $1 million to Trump's campaign.
Following the election, Thiel joined Trump's transition team as an informal adviser, according to CNN — which helps explain how a group of tech executives from Silicon Valley showed up at the Trump Tower on Wednesday. According to Forbes, Thiel helped coordinate Wednesday's meeting and select which company leaders to include in the reunion. "I will say that Peter was sort of saying, 'No, that company's too small,'" Trump reportedly said as he discussed the invitation process behind the Trump Tower meeting. He also suggested that Thiel would continue to be his connection to the tech world, telling leaders, "You'll call my people, you'll call me, it doesn't matter."
That's clearly a role Thiel is happy to take on. "It's important for [the tech community] to be able to work with the rest of the country and the world," he told The New York Times in November. "At the end of the day, it would be crazy to simply spend four years issuing denunciatory tweets on Twitter. For a day or two, that's fine. But I hope Silicon Valley will be more productive than that."
Clearly, Wednesday's meeting marked an important first step in repairing the contentious relationship between Trump and Silicon Valley — and if Thiel has anything to do with it, it likely won't be the last.