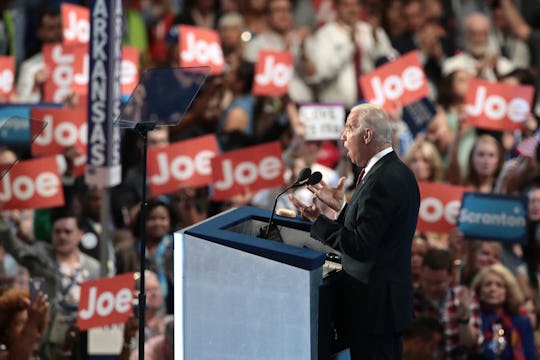 Drew Angerer/Getty Images News/Getty Images
What Was The Crowd Chanting During Joe Biden's DNC Speech? It Referenced His Trump Slam
Joe Biden gave a barn burner of a speech last night in Philadelphia on night three of the DNC. Thursday night Biden brought his signature style of patriotic optimism to the stage and fired up the crowd with his heartfelt vote of confidence for Hillary Clinton. During the part of his speech devoted to Republican nominee Donald Trump, attendees broke into one of the best spontaneous chants of the convention. What was the crowd chanting during Joe Biden's DNC speech? It was a reference to Biden's opinion of Donald Trump.
The speech started with a remembrance of Biden's beloved oldest son, Beau Biden, who died of brain cancer in 2015 at just 46 years old. Biden gave cops, and soldiers, and teachers a shout out, reminding everyone listening, "being a teacher is not what they do, it's who they are. These are the people that are the heart and soul of the country," Biden said.
Biden then talked about his admiration for former Secretary of State Hillary Clinton and the person he's come to know over the past 30 years.
Then the Vice President turned to his assessment of Donald Trump, which was not as flattering.
"Just listen to me for a second...I'm not joking. Think about everything you learned as a child. How can there be pleasure in saying 'You're fired!'?" Biden asked, criticizing Trump's catch phrase from his reality TV show, The Apprentice for a lack of empathy.
"He's trying to tell us he cares about the middle class?" Biden said. "Give me a break! That's a bunch of Malarkey!" he said waving his hand. "This guy doesn't have a clue about the middle class. ...Not a clue... He has no clue what makes America great. Actually, he has no clue, period."
Then the chanting started in what sounded like the nosebleed seats in the area.
"Not a clue! Not a clue!"
It was such a perfect moment between speaker and audience, even Uncle Joe seemed struck by it.
"Not a clue! Not a clue!"
He looked up, smiled and chuckled, "You got it." He finished up with a fiery call for patriotism that had the crowd chanting "USA! USA!"
Here's the closing of Biden's DNC speech, according to ABC News.
That's why I can say with absolute conviction, I am more optimistic about our chances today than when I was elected as a 29-year-old kid to the senate. The 21st century is going to be the American century. Because -- because we lead not only by the example of our power, but by the power of our example. That is the history of the journey of America. And god willing, god willing, Hillary Clinton will write the next chapter in that journey. We are America. Second to none. And we own the finish line. Don't forget it. God bless you all, and may god protect our troops. Come on. We're America. Thank you.
The speech was well received outside the room, too, inspiring people to take to social media to show "Middle Class Joe" some love.
Here's video of the whole speech.