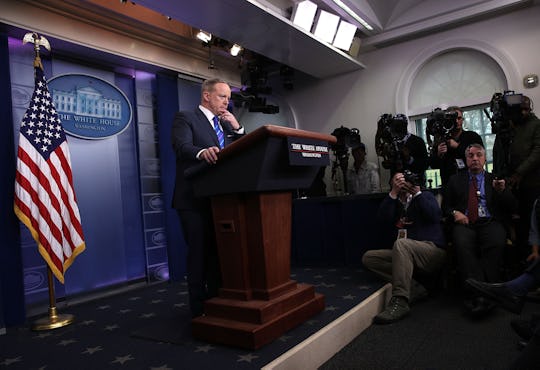 Alex Wong/Getty Images News/Getty Images
About The Mystery Papers At The Trumpcare Briefing
Monday evening, Republican House members revealed their plan for a bill to replace the Affordable Care Act, or, as it's more commonly known, Obamacare. While the bill has already proven highly divisive among both Democrats and Republicans, it was Tuesday's press briefing on the matter that has Twitter blowing up currently. More specifically, people everywhere were wondering: What was that stack of papers at the Trumpcare press briefing?
While White House Press Secretary Sean Spicer spoke of the many merits of the new health care bill, a large stack of papers next to him had many confused. Spicer, along with the Department of Health and Human Services Secretary, Tom Price, later provided clarification on the stack of papers, claiming that the smaller stack was the new bill, compared to the much larger stack, the original Affordable Care Act.
This press conference wasn't the first in which Trump, or his administration, used props (specifically, but not exclusively, stacks of paper) in order to somehow prove their point. However, it's obvious that a shorter, smaller, bill doesn't necessarily mean that it's better (as Spicer argued on Tuesday), and using a visual aide to try and trick people into believing that point seems a bit fruitless.
Whatever the case, given that we're living in such a divided nation right now, it's somewhat comforting that people are finding such joy in those stacks of paper. So, please, enjoy the jokes (because before you know it, you may be denied health care).
The new proposed Republican replacement bill would feature several cutbacks that many in this nation depend on. For example, the bill would defund Planned Parenthood for an entire year, halting critical health care for millions of women. The bill would also roll back the Medicaid expansion that Obamacare was known for, halting coverage for millions of Americans, most notably those who are elderly and sick.
Obviously, health care is no laughing matter. The White House's strategy, to simply imply that the new bill is clearer and smarter because it isn't as large, is worrisome. And as The Washingtonian pointed out, Trump's attempts to prove points with stacks of paper is an alarming trend.
Many on social media wondered whether the papers were, in fact, blank, as reporters at an earlier press conference weren't allowed to look at a stack of similar papers there, with Trump's team claiming that they held details on how the then-president-elect would divest his business interests and give them to his children.
Mysterious stacks of paper aside, the new bill is expected to be brought to the House floor before Easter, meaning that the cutbacks therein could be enforced soon. It's all fun and games for the moment, but let's not lose sight of the real concerns floating overhead either.