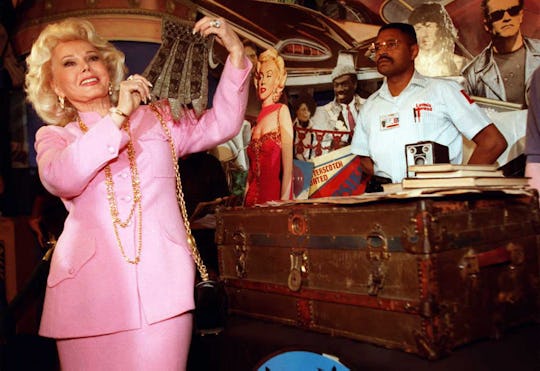 KIM KULISH/AFP/Getty Images
What Was Zsa Zsa Gabor's Net Worth? Medical Bills Dwindled Her Savings
According to CBS, actress and Hollywood socialite Zsa Zsa Gabor died at her home on Sunday, only two months short of celebrating her centennial birthday in February. The Moulin Rouge actress was best known not for her acting, but for her larger-than-life personality and self-deprecating wit. As a glamorous celebrity famous for marrying millionaires and enjoying a lavish lifestyle, Gabor's fortune was also a frequent topic of curiosity for many. So just what was Zsa Zsa Gabor's net worth?
At the time of her death, it likely wasn't a huge amount. Although The Richest pegged Gabor's estimated net worth at $40 million, her husband Frederic Prinz von Anhalt told reporters in 2011 that he was putting their Bel-Air mansion on the market in order to pay off debt and Gabor's mounting medical bills. "I just want to settle my wife's debts and keep her comfortable," he told reporters at the time, according to The Los Angeles Times. "The upkeep alone per month on the house is $35,000. It gives me a big headache, and I cannot afford to keep paying it."
He said Gabor relied only on Medicare and had medical bills that reached up to $21,000 a month. Her savings, he said, were nonexistent. "She partied with the rich and famous, flirted and sometimes got married," he told reporters. "She did not think of the future."
Gabor's health wasn't the only expense that dwindled her net worth. According to The New York Times, Gabor was also reportedly swindled out of at least 7 million dollars by Bernie Madoff, the scam artist whose multi-million dollar Ponzi scheme landed him in jail in 2009. On top of that, in 2005, Gabor and von Anhalt sued her daughter Francesca Hilton, claiming Hilton had defrauded her mother in order to buy a new home, according to the BBC.
Before the couple finally sold their mansion in 2013, according to The Huffington Post, they had resorted to renting it out as a film set for movies like Argo. "I am sick of hiding behind two words: Rich and famous," von Anhalt said in 2011. "We may be famous, but we are not rich."
During the peak of Gabor's celebrity, however, she did live a lavish life: Her personal closet in her Bel Air mansion had over 5,000 pieces of clothing in it, and she said she would give anyone who could prove she'd had a face-lift a cool $1 million, according to The New York Times.
Regardless of her net worth when she passed away, Gabor will always remain the timeless face of Hollywood fame and glamour. After all, it was her wit and humor that made Gabor famous in the first place, not the savings she might have had stashed away.