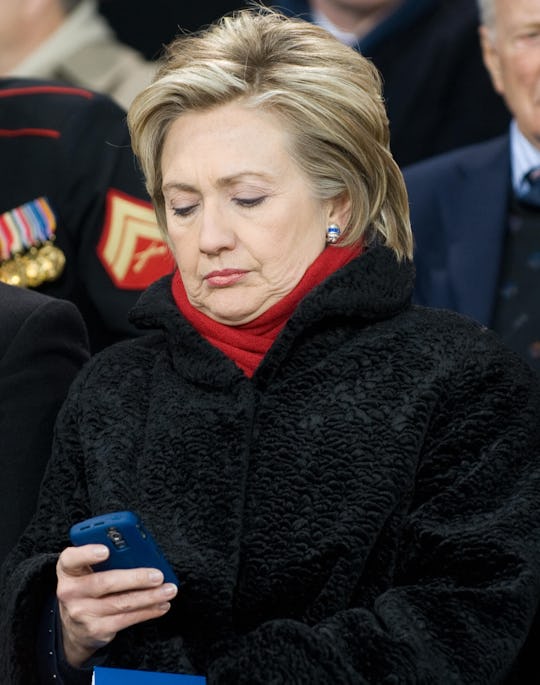 SAUL LOEB/AFP/Getty Images
What Were Hillary Clinton's Secret Emails About? Here's What We Know
In accordance with the Freedom of Information Act, the State Department has released thousands of emails from former Secretary of State Hillary Clinton's private email server. The FBI has recommended that Clinton not be charged, but director James Comey wasn't shy about verbally indicting Clinton for her "extremely careless" handling of the messages. So what were Clinton's secret emails about? Some were released in their entirety, some had portions redacted, and some have been classified as "top secret," meaning the public won't get a peek at them for decades. But was the information in the emails really that sensitive?
According to The New York Times, Clinton and others linked to the emails have charged that the information wasn't classified at the time that the messages were sent. Former State Department and National Security Council official Dennis B. Ross sent one such email to Clinton on Sept. 22, 2012. Ross was no longer a government employee at the time, and the message contained "a few thoughts" regarding Clinton's upcoming meetings regarding Israeli-Palestinian peace talks. Nearly all of the message – which, again, was sent by a private citizen – was redacted on national security grounds. Ross said that none of the message should have been classified.
According to Politico, State spokesman John Kirby said that that top secret emails "were not marked classified at the time they were sent," but that he was "not going to speak to the contents" of the messages. Clinton campaign spokesman Brian Fallon called the decision "overclassification run amok," and called for a full release of all of the emails. The State Department is also withholding 18 email threads between Clinton and President Obama that Kirby said were not classified, but were simply being kept private because they were presidential communications, according to the Times.
Clinton also implied to NPR that at least one of the 22 "top secret" emails was actually a news article about drones. "How a New York Times public article that goes around the world could be in any way viewed as classified, or the fact that it would be sent to other people off of the New York Times site, I think, is one of the difficulties that people have in understanding what this is about," said Clinton. Others sound understandably more confidential, such as those regarding the Sinai Peninsula or the raid that killed Osama Bin Laden. At any rate, the public can read tens of thousands of them now, and many more in about 20 years, if they're interested.