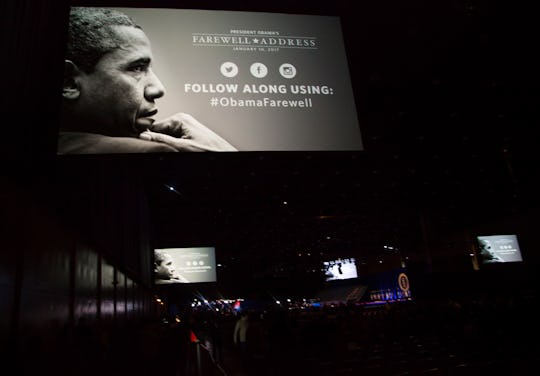 Darren Hauck/Getty Images News/Getty Images
People Are Chanting At Obama's Speech
In responding "I can't do that" to precocious audience members at his final speech, President Obama was quelling the chants that echoed through Chicago's McCormick Place convention center. But what were people chanting at Obama's farewell address that caused him to respond in such a way? The president had to pause as audience members shouted "four more years!" Of course, those chants followed a vocal few in the crowd: The "four more years" chants reportedly began as a response to woman holding a "Pardon Us All Now" sign, who was reportedly escorted out.
At the beginning of his speech, after giving a thank-you to the audience as well as to the city of Chicago, Obama immediately addressed ideological clashes that may have come up over the past eight years, saying: "Whether we have seen eye to eye, or rarely agreed at all, my conversations with you the American people ... are what have kept me honest, and kept me inspired, and kept me going." After the "four more years" chants erupted, and he was able to temporarily calm the crowds, he continued to speak optimistically, insisting: "change only happens when ordinary people get involved, get engaged, and come together to demand it."
"I love you, Obama," was also shouted out by enamored supporters. The crowds as a whole proved themselves to be particularly rowdy, even booing Obama's mention of the upcoming transition of power. "No, no, no," Obama lectured in response, saying:
I committed to President-elect Trump that my administration would ensure the smoothest possible transition, just as President Bush did for me. Because it's up to all of us to make sure our government can help us meet the many challenges we still face.
Crowds also appeared to be upset when the president transitioned to the end of his speech, in his saying: "Which brings me to my final point." Obama's supporters were obviously distraught at the thought of this historic speech — and historic presidency — coming to an end, offering up a chorus of groans this time around.
That Obama's farewell speech crowds were so impassioned spoke volumes to the inspiring presidency that he served over the past eight years. As much as his supporters would like "four more years" with him as president, he's shown his obvious commitment to helping with the nation's transition to President-elect Trump — an administration which carries with it quite a different tone than the one that has been promoted in the White House for the past eight years.