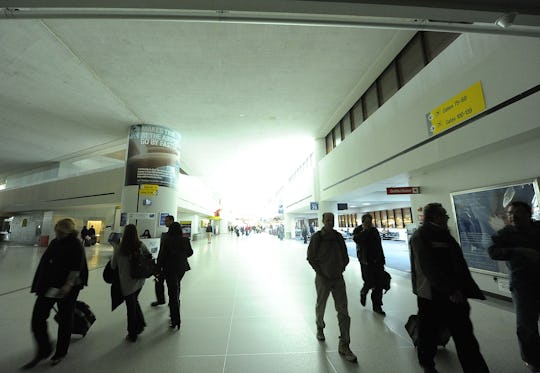 Michael Loccisano/Getty Images News/Getty Images
What Were The New Jersey Explosive Devices Made Of? Officials Are Still Investigating
Following the explosion of what officials say was a pressure cooker bomb left in the Chelsea neighborhood of New York City and the explosion of another pipe bomb device in New Jersey, both on Saturday, five devices that looked like explosives were discovered near Elizabeth station in New Jersey on Sunday night, some of which law enforcement is still trying to disarm. What were the New Jersey explosives made out of? And what can that tell officials about a possible link to the other explosives found in the area?
Law enforcement is currently looking for a suspect in the bombings, 28-year-old Ahmad Khan Rahami, a naturalized citizen from Afghanistan, according to The Guardian. His photo is being widely circulated.
The devices near Elizabeth station were first spotted by two men on Sunday night, who reported they saw a pipe and wires coming out of a bag, according to The Guardian. CNN reported the explosive devices were found in a in a garbage can outside a local bar, about 500 feet away from the train station. A loud explosion could be heard on Sunday night as law enforcement attempted to disarm the device shortly after 12:30 a.m. early Monday morning, according to Christian Bollwage, the mayor of Elizabeth, New Jersey.
"The robots that were going in to disarm it cut a wire and it exploded," Bollwage told CNN, according to The Guardian. "I don't know the technological aspect of that. I know there are other devices. I don't know what they are made up of but they are going to have to be removed and all the fragments from the other pieces are going to have to be picked up so the FBI can investigate this fully."
The bombs in New York were made out of pressure cookers and filled with shrapnel like BBs and ball bearings, according to CNN. The Guardian reported that the pressure cooker bombs used in New York City were found to have black powder residue which has been identified as Tannerite, which is widely used to mark shots in target shooting. There was no Tannerite residue found in the Elizabeth station explosive, according to an anonymous AP source, The Guardian reported.
"We're going to be very careful and patient to get to the full truth here," New York's mayor, Bill de Blasio, said according to The Guardian. "We have more work to do to be able to say what kind of motivation was behind this. Was it a political motivation? A personal motivation? What was it? We do not know that yet."
Officials are saying they believe this could be the work of a terror cell in the area, according to CNN.