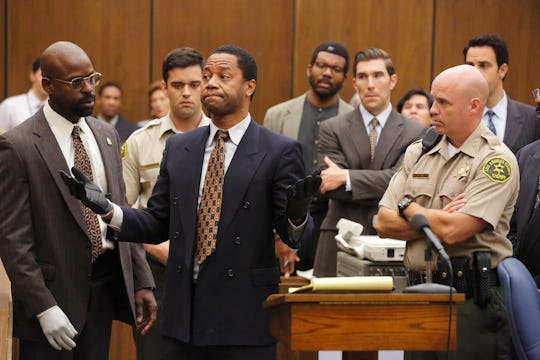 Ray Mickshaw/FX
What Will 'American Crime Story' Season 2 Be About? It's Going To Be Quite Different
FX's American Crime Story is going to be an anthology in the mold of the network's other popular series American Horror Story, with each season focusing on a different self-contained story. The first season's exploration of the O.J. Simpson trial has brought it critical acclaim and left many people wondering what topic the show will take on next, but lucky for everyone the news has already been announced. So, what will season 2 of American Crime Story be about?
The answer might be surprising, because it's about as far from the courtroom as the show could get. The second season of the acclaimed series will focus on Hurricane Katrina, an event in our country's history that isn't quite as far removed as the Simpson trial is now. The hurricane hit only 10 years ago in 2005 and the consequences of its aftermath are still being felt by many. While at first glance the two topics might seem like they have nothing in common, they actually share a lot of thematic ties. They both deal with racial issues, injustice, mismanagement on a grand scale, and the repercussions of all of that on American culture.
Those themes are of utmost importance to executive producer Ryan Murphy. He told The Hollywood Reporter, "I want this show to be a socially conscious, socially aware examination of different types of crime around the world. And in my opinion, Katrina was a f—ing crime — a crime against a lot of people who didn't have a strong voice and we're going to treat it as a crime. That's what this show is all about."
Anthony Hemingway, who co-produced the first season and directed five episodes, echoed those statements. Hemingway has also worked on the Katrina-focused series Treme and he spoke briefly on the differences between Treme and the upcoming season of American Crime Story.
Treme was a different part of the story in that it highlighted the people of that city coming home and trying to revive life, and I think American Crime Story will really focus on the beginning of that and the awful crime and tragedy that happened when it first started. I think it will have as much of an impact and be as effective as O.J., but untraditionally. There are so many crimes that are committed that aren't in the courtroom.
In many ways, Hurricane Katrina is a much larger story. It isn't as clear-cut as the O.J. Simpson trial and it lacks the same definitive end, but American Crime Story's second season promises the same careful exploration of every facet of the story. Murphy explained that the plan so far would be to focus on a group of six to eight characters that will allow the series to showcase every side of the tragedy; whether it will be entirely fictionalized or based on real people is unknown for now. American Crime Story has proven itself dedicated to turning a magnifying glass on issues that may have been forgotten with the passage of time, and there's no reason to assume the second season won't be just as successful at it.