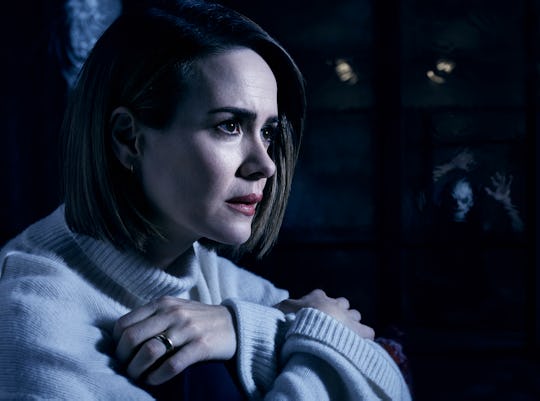 Frank Ockenfels/FX
These Clues May Hint At What 'American Horror Story' Season 8 Will Be About
I can't imagine what American Horror Story would be like if it wasn't an anthology, and instead was stuck in Murder House for the past seven seasons. Honestly, I can't imagine that alternate universe AHS even lasting seven seasons. Thankfully, that isn't something we have to worry about. So since every season of AHS has a new theme, I'd say it's time we start agonizing over what American Horror Story Season 8 will be about. The show has already tackled the scariest story of all — the 2016 presidential election — so viewers are eagerly awaiting what Ryan Murphy is cooking up for next year.
AHS is such a hit that Season 8 and Season 9 were greenlit long before Season 7 even premiered. Not only that, but it was also renewed before the theme for Season 7 was revealed. At the Television Critics Association press tour back in January, FX Networks CEO John Landgraf discussed the cultural significance of the show. "American Horror Story launched the modern limited series revolution and — as evidenced by the most recent installment Roanoke — it remains as vital today as when Murder House stunned audiences six years ago." He also complimented the anthology style, saying, "Each new chapter is a cultural event, beloved for every new twist in imagery, style, cast and plot."
Here are a few possibilities for what Season 8's theme could potentially be:
A Murder House/Coven Crossover
Way back in October 2016, Ryan Murphy announced an AHS: Murder House and Coven crossover season. "We do know what we're going to do," Murphy said during Entertainment Weekly's PopFest. "It's not going to be next season, but we are going to do a season that's a crossover between Murder House and Coven together, which is very bizarre." The "next season" he was referring to was Season 7, so there is a chance Murphy arranges it for next year. Sarah Paulson is confirmed to be in Season 8, so I wonder if she would be Billie Dean Howard or Cordelia Foxx!
Butte, Montana
AHS: Butte? Doesn't seem too frightening, but PopSugar may have picked up on a clue for American Horror Story Season 8. The show is known to drop hints about the season to come, and some fans believe this year's occurred in the episode "Charles (Manson) in Charge." Winter offered Beverly an Amtrak ticket to Butte, Montana... why? What's so special about Butte? Just as fans picked up that there was something significant about Oz's parents because Winter brought it up in the premiere, they believe Butte may hold significance as well. Even if the theme isn't Butte, Montana (what's the horror? the snow?), it may take place there.
Dante's Inferno
I don't think there will be an AHS: Dante, but there may be a correlation between the circles of hell and the AHS seasons. Earlier this year, Murphy hinted that the 9 circles of hell coincide with American Horror Story. The only two left are "lust" and "violence." While both of those are plentiful in every AHS season, it would be interesting to see one solely based on the trait.
American Revolution
OK, this one is out there, but hey — Reddit's bizarre theories have been right before. Redditor Musain suggested that Season 8 could be about the American Revolution. They pointed out several clues: Bebe mentioned that the bullets Valerie Solanas used on Andy Warhol were "the first shots of a revolution" (Valerie also called SCUM a revolution); Kai tells Winter that the "crown is heavy"; and Winter called out Harrison for thinking Kai is a king. This isn't my first guess, but seeing as AHS has dropped very subtle hints in the past, I wouldn't rule it out.
Unfortunately, fans will have to wait a while before their theories are either confirmed or rejected. AHS: Cult's theme was only revealed in July, two months before the premiere. If nothing else, there's plenty of time to rewatch Cult for any more clues.
Check out Romper's new video series, Romper's Doula Diaries:
Watch full episodes of Romper's Doula Diaries on Facebook Watch.