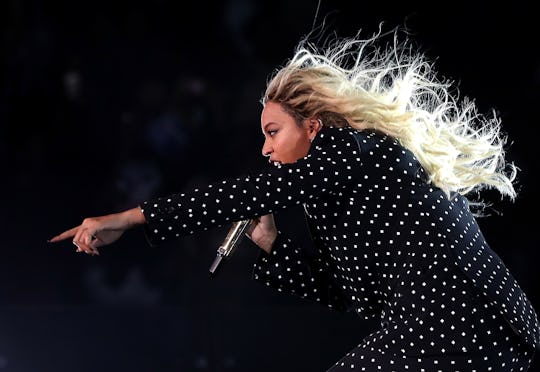 Justin Sullivan/Getty Images News/Getty Images
Beyonce's Twins Will Probably Have The Best Names
Okay, I admit it, I was wrong. 2017 is not going to completely suck, after all. Yes, our political system is a mess and seems to be completely falling apart with each passing day, but now, it looks as if the heavens are smiling down on us because Queen B herself is pregnant again. That's right, folks, Beyonce and Jay Z have announced they're expecting again. But this time, they're having two adorable bundles of joy. So what, exactly, will Beyoncé name her twins?
Well, first, we have to look at the evidence. Beyoncé herself announced the couple's pregnancy, using her Instagram account, on Wednesday afternoon. It wasn't long before the well wishes came pouring in, and honestly, it's safe to say everyone wholeheartedly agrees with one another. It seems like it's been ages since Beyoncé gave birth to the Carters' first child, little 5-year-old Blue Ivy. And now, thankfully, more bundles of joy are on the way.
Little Blue, who just turned 5 this January, will now have two younger siblings to play with, and, of course, inspire. While no due date has been given yet, Beyoncé did bless us with a gorgeous maternity photo of herself, and we can only assume that the babies will be making their appearances (hopefully) by this summer.
Now, we're left with only a few questions. We still don't know the sex of the babies, or whether they'll be identical or fraternal twins, so we can really only guess as to what kind of names will be bestowed upon the two little angels.
For the record, I would like to formally put in my own two cents on what Beyoncé should name these two babes: I'm thinking she should stick to the color theme, and go with Purple, Mauve, Teal, or Blush. Twitter, too, has a few ideas:
What we do know for sure at this point is that now, the world seems a little brighter, and maybe even a little more colorful with two new Beyoncé mini-me's entering our lives this year. Honestly, whatever they decide to name the little ones will be perfect, because, duh, she's the Queen, and, together, they can do no wrong. (And can you just imagine how much cuter their family photos are going to get with the addition of, not one, but two new babies? Seriously, if this news doesn't make you hopeful for the future, I don't know what will.)
Congrats, Bey! You deserve it all!