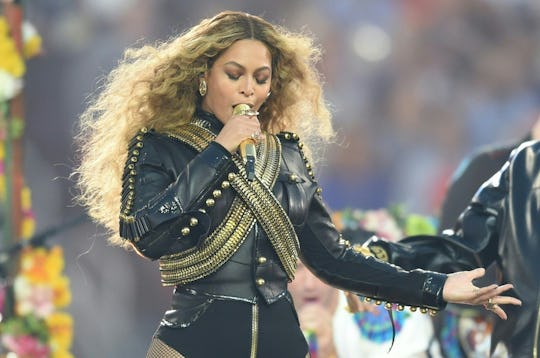 TIMOTHY A. CLARY/AFP/Getty Images
What Will Beyonce's Next Album Theme Be? Here's What We Know
There is a lot of mystery surrounding Beyoncé's next album. That's the way she likes it. Beyoncé keeps fans guessing, and waiting, and then one day it's there and hysteria ensues. Most followers agree that her sixth album is imminent. If she is going to release it before her Formation Tour, that means it's got to come out before April 27. Even though there has been very little information about the songs on the album, there have been clues about its tenor. So, what will Beyoncé's next album theme be? Here are the best guesses.
Beyoncé has done three things this year that are setting the tone (and the stage) for her next album. First, she released her enthralling, beautiful music video for "Formation," which turned an unblinking eye on black history, and the black experience in America. It made artful reference to Hurricane Katrina, Pentecostalism, and Red Lobster, weaving it all into a narrative of pride.
Second, just a day later she performed at the Super Bowl Halftime Show. Beyoncé may be a darling of pop music, but she took the opportunity to make a political statement that invigorated, challenged, and shocked some viewers. She and her squad performed in leather Black Panther-esque outfits, complete with black berets. They were strong, unsmiling, and in formation. Beyoncé used the stage, and its millions and millions of viewers, to make a strong, clear political statement. If "Formation" and this performance are any indication, her upcoming album is sure to tackle racial inequality and black pride with a force people haven't seen from the artist in her past projects. It's an exciting and frustrating time for the new civil rights movement, in all its forms, and it's inspiring to see Beyoncé join the conversation in full force and without apology. There are rumors that the families of victims of police brutality are going to appear in the album video, and, while those rumors are unconfirmed, they serve to underscore the political message of this album.
Third, she collaborated with Topshop for a new line called Ivy Park. It's a collection of athleisurewear that aims to inspire its buyers to greatness. In the video teaser for it, Beyoncé speaks nostalgically about her childhood. Even though it's an advertisement, it's a rare glimpse into the past of someone who's hard to imagine as a child — or as anyone other that Queen Bey. She describes being pushed by her father to run in the park. She talks about her home, playing with her sister, and not giving up on her dreams. Instead of distancing herself from her listeners, Beyoncé is actively trying to connect with them in order to convey that anything's possible. The little girl that ran in the park grew up to be one of the most famous people on the planet; if she did it, others can, too.
Even with all the mystery, there is a lot of surety with Beyoncé's upcoming album. It's certain that it's going to be downloaded at record-breaking numbers; it's certain that it's going engage blackness, law enforcement, and the Black Lives Matter movement; it's certain it's going to raise up its listeners, and spread a message of hope and inspiration despite one of the most discriminatory political climates of the last few years.