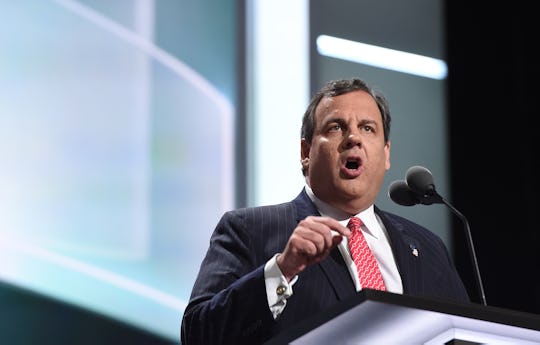 ROBYN BECK/AFP/Getty Images
What Will Chris Christie's Role Be In The Trump Administration? His Prospects Look Dicey
In the once unlikely event of a victory for Donald Trump, New Jersey Gov. Chris Christie was positioned to snatch one of the choicest gigs in the White House. Rumors swirled that it was Christie, rather than Indiana Gov. Mike Pence, who Trump would have preferred to have as his running mate. But legal problems that have long dogged Christie appear to be getting worse, fast. So what will Christie's role be in the Trump administration? It's unclear, but his handling of the so-called Bridgegate scandal, among other missteps, could keep him far from the West Wing for the next four years.
A report from the New York Post said Trump is "disgusted" by Christie's handling of the scandal, which doesn't bode well for the governor's job prospects. "Trump thought it was shameful that Christie didn't take the fall for Bridget Kelly (Christie's aid who was convicted)," an un-named source close to the transition team reportedly told the Post. "Trump is really angry that Christie is sending a soccer mom to jail. He believes 100 percent that Christie was behind it all."
Just after the election Christie was demoted from Vice Chairman of the Trump transition team to co-chair, according to Politico. But the same source added that Christie "will still be around."
The Post also reported that the Trump administration sees almost no chance of getting Christie confirmed to a Cabinet-level job. Republican National Committee Chairman Reince Priebus has been named Trump's chief of staff, and Brietbart news chief and noted anti-Semitic media provocateur Steve Bannon has been tapped as chief strategist and senior counselor, according to the Asbury Park Press and USA Today.
Adding even more bad blood to the relationship between Trump and Christie, according to the Asbury Park Press, is that one of Trump's closest and most trusted advisers is son-in-law Jared Kushner. Kushner's father, Charles, was prosecuted by Christie while he was serving as U.S. Attorney for the sate of New Jersey. Awkward.
But perhaps Christie's gravest error was turning his back on Trump after the 2005 Access Hollywood tapes were released. According to KTLA, sources say his flagging loyalty to Trump when he needed it led to Trump's campaign to keep Christie out of the White House inner circle.
According to the Asbury Park Press there are also rumors Christie could take over as chairman of the Republican National Convention since current chairman Reince Priebus will be headed to the West Wing.
In the meantime, Christie is facing tough challenges. In New Jersey, state Senator Loretta Weinberg has requested impeachment proceedings start to get Christie out of the governor's office over the Bridgegate scandal, the Asbury Park Press reported.
Christie's one-time close advisers, former Deputy Chief of Staff Bridget Kelly and former Port Authority Deputy Executive Director Bill Baroni were recently convicted for criminal conspiracy and fraud, among other charges, for their role in shutting down lanes of the George Washington Bridge in retribution for a mayor not endorsing Christie's bid for governor, according to CNN. Both face long prison sentences. Christie, CNN added, isn't facing any charges. Only his political prospects seem to be in danger at the moment.