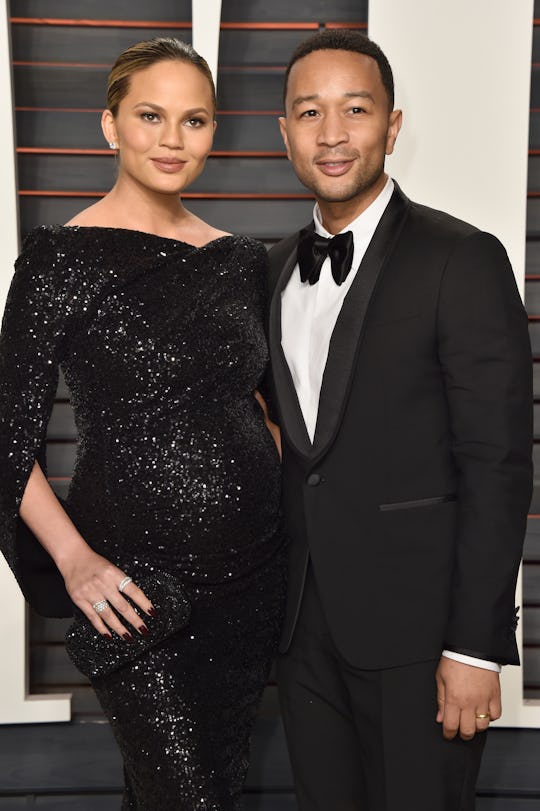 Pascal Le Segretain/Getty Images Entertainment/Getty Images
What Will Chrissy Teigen Name Her Daughter? She Got Obama's Stamp Of Approval
The big day is getting closer and closer for Chrissy Teigen and John Legend, who are prepping for a little girl due in April, according to E! News. But the couple is having trouble with one pretty important aspect of becoming parents: naming the baby. What will Chrissy Teigen name her daughter? President Barack Obama approved one of the names on their list, but they didn't reveal which one he liked.
Teigen appeared on The Late Show with Stephen Colbert to cook Vietnamese summer rolls with him (because she's releasing her own awesome cook book), and she was discussing her pregnancy with Colbert, according to TODAY. When they got to names, she said, "I asked Barack if he...," and Colbert, of course, responded to her first-name dropping the president by dropping a carrot on the ground as if it were a mic. According to USA Today, Teigen responded:
We're like very first-name basis. I wanted to ask him because John isn't sold on the name, so I figured if he liked it, then John would be sold on it.
Well, yeah. I mean, who in the heck is going to turn down a baby name if they hear that the president of the U.S. likes it? Especially when that president is Barack Obama, or B-Rock, as I like to call him.
Teigen even told Colbert that if he had a suggestion, she and John would take it into consideration. So, hopefully Obama or Colbert can helped them narrow their list down a bit, because they don't have much longer to make a decision. E! News said that they are much closer than they were the last time they gave E! a baby update. They had previously said they had a top 20 list of names and were trying to whittle it down from there.
Still, Teigen feels like she may have missed an opportunity with the president. She told Colbert, according to TODAY:
I asked President Obama if he liked one of our name choices, and he said he did. But then I realized, I should have come up with two so he could pick one, because, you know, you've got to be nice about it if you give someone a name.
She also said that the name she liked had Legend on the fence because he said it was "too Hollywood." But, now that it got Obama's approval, maybe Teigen can make Legend come around. At least we know that the little one will have a unique name, even if that's the best detail the couple has released so far.