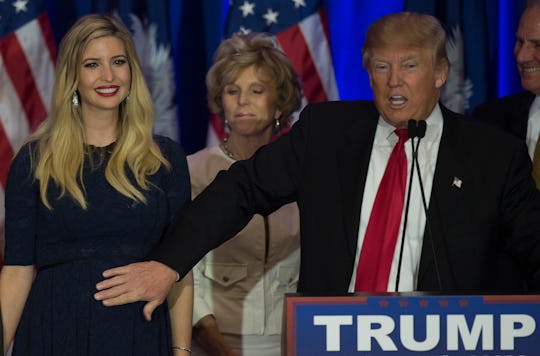 JIM WATSON/AFP/Getty Images
What Will Donald Trump's Daughters Do If He Wins The Presidency? They're Both Successful
Malia Obama is on her way to Harvard after a gap year. Jenna Bush Hager is a host on The Today Show, as well as a mom to her adorable daughter. So, what will Donald Trump's daughters do if he wins the presidency? It's no secret that the Republican front runner holds a billionaire business minded background — currently running the Trump Organization — leading some to wonder if he'll keep the business in the family if ends up in the White House.
In an interview Megyn Kelly on Monday, Trump spokesperson Katrina Pierson inadvertently broke the news that Trump's eldest daughter Ivanka Trump may take over the Trump Organization should her father win the presidency this fall. The news was revealed during a heated debate between Kelly and Pierson about Trump's use of the word "bimbo" and other misogynistic language. Throughout the exchange Pierson supported Trump and said he "doesn't reserve his criticism for women" and that he has supported women throughout his career.
"He has two sons but yet his daughter is going to be inheriting the company," Pierson said in the interview with Kelly. After questioning from Kelly about Trump's sons, Pierson insisted that Trump has "already mentioned that Ivanka is going to take over" and the siblings will have "shared responsibilities."
The news may not be a surprise to Trump's followers: Longtime publicist and friend of the Trump family Couri Hay told The Real Deal recently that 34 year-old Ivanka "might be the top choice to guide the company" and that "none of the sons have the pizzazz of Ivanka." In addition to being a mom of three, Ivanka currently runs a multimillion-dollar lifestyle brand for working women.
Trump's youngest daughter Tiffany, according to CNN, has continuously defended her father's treatment of women, but has mostly stayed out of the political spotlight and has concentrated on her studies. The 22-year-old is a senior at the University of Pennsylvania and, unlike her siblings, she is pursuing a career in fashion and music. According to CNN, her big sister reportedly helped her get an internship at Vogue. In the past few months, Tiffany made her debut as a runway model and has gained some Instagram fame with more than a hundred thousand followers.
Ivanka and Tiffany seem to have a pretty steady platform to work with if this election season ends with Trump in the White House. If not, it doesn't seem like their careers will suffer either.