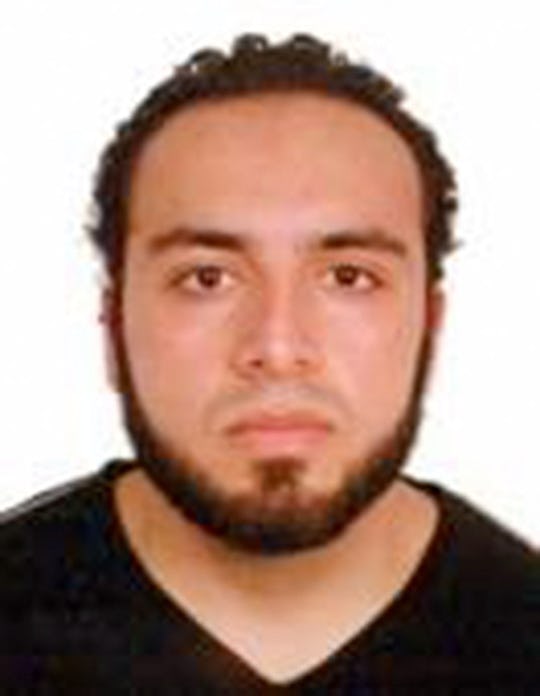 Handout/Getty Images News/Getty Images
What Will Happen To Ahmad Rahami After His Arrest? The FBI Connected Him to Recent Attacks
On Saturday night, an explosion in Chelsea injured 29 people. Another explosive device was found just blocks away that was undetonated. Authorities announced on Monday morning they were looking for Ahmad Kahn Rahami in connection with the bombings. NBC News has just reported that Rahami was taken into custody by police in Linden, New Jersey, Monday morning. What will happen to Ahmad Rahami after his arrest? Romper could not reach Rahami for comment.
Rahami was arrested Monday at 11 a.m. after an exchange of gunfire with police, according to news reports. Rahami shot a police officer during the exchange, ABC News reported, and was also wounded in the exchange. The officer's injuries are not life-threatening.
According to CNN, authorities have not named Rahami a suspect in both explosions, but he has not been charged. If he is charged and convicted, Rahami could face life in prison for charges of conspiracy to use a weapon of mass destruction and attempting an act of terrorism. Faisal Shazard, who in 2010 ignited a car bomb in New York City that failed to explode, faced similar charges.
Officers found Rahami after they responded to a call of a man sleeping outside near a bar. FBI and law enforcement will now question Rahami because they believe he's the man seen on surveillance video dragging a duffel bag near the site of the Chelsea explosion.
A law enforcement official, who spoke to media outlets, including The New York Times, anonymously said they had evidence that Rahami was connected not just to the Manhattan explosion in the Chelsea neighborhood, but also to an explosion near the Jersey Shore earlier that same day.
On Saturday at 9:30 a.m., a pipe bomb exploded in a trash bin at a charity race in Seaside Park, New Jersey. The race was supposed to start at 9 a.m., but was delayed because of a large turnout, and no one was injured.
FBI and other law enforcement raided an Elmora Avenue home in Elizabeth, New Jersey, that is believed to be Rahami's last known address. The apartment is close to where authorities found five pipe bombs near a train station in Elizabeth on Sunday night. One bomb was detonated by police officials disarming the explosives, and no one was injured. No one has been charged in any of the incidents.
A fingerprint found on one of the unexploded devices also connected Rahami to the explosions, NBC New York reported. Authorities say flip phones were left behind in all three of the bombs in Chelsea and Seaside Park.
The official who spoke anonymously to the media emphasized the importance of Rahami's capture. "Here's a guy who has been involved in what appears to be four bombings in rapid succession in recent days in crowded places." The official also stated there is no direct evidence yet linking Rahami to ISIS or Al Qaeda.
On CBS This Morning, New York City Gov. Andrew Cuomo said he believed "it was clearly a terrorist activity."
In an interview with WCBS 880, New York City Mayor Bill de Blasio said that there is "not enough information" to say if Rahami was acting alone or if others were involved with the incident, and that the investigation is ongoing.
Rahami, who is 28 years old, was born in Afghanistan and is a naturalized U.S. citizen.
Ryan McCann said Rahami has been working behind the counter at his father's restaurant, First American Fried Chicken, for about five years. The restaurant is located directly above the apartment Rahami last lived in.
"He's a very friendly guy, very Americanized. You would never expect anything like this. It's terrifying because he's been hiding in plain sight," McCann told The New York Post.