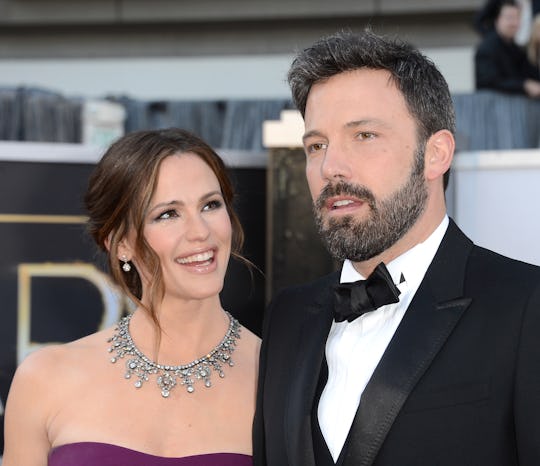 Jason Merritt/Getty Images Entertainment/Getty Images
What Happens To Ben Affleck & Jennifer Garner's Kids Now?
After 10 years of marriage and three beautiful children, E! News reported on Thursday that Jennifer Garner has officially filed for divorce from Ben Affleck. Breakups are tough on everyone, but especially for the kids that are caught in the middle of it all. So, what will happen to Ben Affleck and Jennifer Garner's kids now that the pair has officially split? Romper has reached out to their representatives regarding the decision to move forward with their divorce and is awaiting a response.
UPDATE: Garner's rep confirmed the news of their divorce to Romper in an email on Thursday evening.
News of their divorce filings comes nearly two years after Affleck and Garner announced they were separating. Over that time, however, the parents of three have made it very clear that they are determined to make a co-parenting dynamic work for their family, having been spotted on numerous occasions sharing parental duties and speaking kindly of each other in interviews as well, according to The Daily Mail. Earlier this month, for instance, the estranged couple took all three of their kids to church together, and after the service Affleck took their oldest daughter to a karate class.
As TMZ reported on Thursday, the friendly exes — who are parents to their two daughters, 11-year-old Violet and 8-year-old Seraphina Rose, and one son, 5-year-old Samuel — both want joint legal and physical custody of their kids, which means that their children will live with both of them in their respective homes and they will still make decisions about their kids' upbringing together.
According to People, a source close to Affleck and Garner said that the split has been "super amicable" and the official filing won't change how they've co-parented their kids since their separation.
"They always planned to divorce despite what people said," a different source told People following the news of their filing. "They just did it the way they wanted to and did what was best for their kids. There was no catalyst, it was just time. Nothing has changed, they are and still will be putting their kids first."
Just last month, the 43-year-old mom of three opened up about her decision to end their marriage and her cordial relationship with Affleck.
"We're doing really well... The kids are great," Garner told Today cohost Savannah Guthrie in March, according to Us Weekly. "They'll be getting up and going to school soon, and Ben is there and he'll be taking them. We will make it work."
Although he doesn't often discuss his private life with the media, Affleck has also opened up recently in an interview with Ellen DeGeneres about how he and Garner continue to put the kids first.
"You know, we're good friends, and we're doing our best and our kids are fabulous, and we're working our best for them," the 43-year-old dad told DeGeneres last month, according to Us Weekly.
Co-parenting isn't always an easy relationship to maintain. But, when it does work smoothly, like it appears to be with Garner and Affleck, that's the best outcome you could hope for after something as difficult as a divorce.