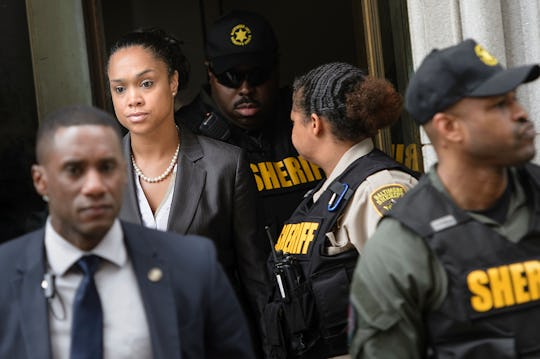 BRENDAN SMIALOWSKI/AFP/Getty Images
What Will Happen To Caesar Goodson Next? He's Still Suspended From The Force
One of the Baltimore police officers accused of contributing to the death of Freddie Gray was acquitted of all charges on Thursday. Last April, Caesar Goodson Jr, the 46-year-old van driver whose driving prosecutors claimed broke Gray's back and caused his death, was accused of second degree depraved heart murder and second degree assault, among other charges. So what will happen to Caesar Goodson next?
Despite the acquittal, Goodson is still suspended from the police force. According to Mayor Stephanie Rawlings-Blake, Goodson will go through an administrative review to determine whether he'll be reinstated as an officer. Goodson's charges were the most serious to be brought against the six police officers indicted in Gray's death, and his acquittal is bad news for the prosecutors' remaining cases. The prosecution failed to convict two other officers charged in Gray's death.
"It does not bode well for prosecution," CNN legal analyst Danny Cevallos said. The verdict "sends a message to the public and to the courts and the prosecution that if you can't convict beyond a reasonable doubt as to a high charge like murder, what does it say about lesser crimes?"
Prosecutors claimed Goodson gave Gray a punishment known as a "rough ride," where police officers drive erratically in order to intimidate people they've arrested. Gray, who entered the van as an apparently healthy 25-year-old, was left with a nearly severed spine after the ride and died a week later. But the judge didn't buy it and criticized the prosecutors for accusing Goodson of using the punishment without proof.
After the verdict, Goodson hugged his lawyers and shook hands with the head of the police union. In Baltimore, crowds gathered to protest the verdict.
"Gray's death is a tragedy not found to be a crime in court, but a wakeup call for Baltimore. Not a day of rejoice for anybody," Cornell Brooks, NAACP president and CEO tweeted.
The verdict comes after a particularly heated trial, where the prosecution and the defense repeatedly butted heads. Police questioned the legitimacy of the prosecution's investigation, and the prosecution accused the police of influencing a detective who ruled Gray's death an accident, according to another article in The Baltimore Sun.
As for the police officers who have yet to be tried, they are unlikely to be convicted after Goodson's acquittal. While their future is up in the air, Goodson's verdict brings a shocking end to one of the most anticipated trials in the country.