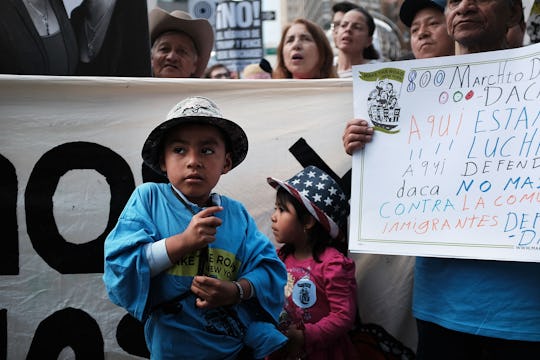 Spencer Platt/Getty Images News/Getty Images
Here's What Will Happen To DREAMers If DACA Ends
On Sunday, POLITICO reported that President Donald Trump would end the Obama-era immigration policy known as Deferred Action for Childhood Arrivals — or DACA, as it's more commonly referred. On Tuesday, the White House is expected to formalize the announcement to end DACA with a six-month implementation delay. Nearly 800,000 people would be affected by this major policy announcement, so what will happen to DREAMers if DACA ends?
DACA was implemented in 2012 to protect undocumented immigrants who arrived in the United States as children. Unlike children born on U.S. soil to undocumented immigrants, DREAMers — children of undocumented immigrants born outside the United States — are not automatically entitled to U.S. citizenship. Obama's signature piece of immigration policy was meant to serve as a stopgap for these children, allowing them two years of amnesty from deportation — the "deferred action" part of DACA — to obtain both a social security number and a work permit.
To qualify for DACA, DREAMers had to apply through U.S. immigration, which means they've handed over their identities to the U.S. government, only to now face the fact that same information will be used against them with the White House's forthcoming announcement on the end of DACA. So what does this mean for the nearly 800,000 people who have been approved to remain in the United States since DACA took effect?
The most immediate effect to DREAMers is that they could be separated from their families and sent to their countries of origin despite having lived in the United States their whole lives. Ending DACA is unnecessarily cruel when DREAMers have operated under the government's assurances for the past five years that their families would be kept whole.
Perhaps one of the most troubling aspects of ending DACA is that DREAMers would be placed in legal limbo with nowhere to "hide" or return to the immigration shadows from which they emerged. While ending DACA most likely would not translate into immediate deportation, U.S. immigration does have enough detailed information on DACA-approved DREAMers to make it far easier to track, arrest, and deport them, according to Vox. If DACA ends, DREAMers won't be forced out of the country, but it becomes increasingly difficult for them to remain.
DACA is not without controversy: It doesn't offer DREAMers a path to citizenship, which has long been seen as one of the largest criticisms against DACA. However, it did give previously undocumented immigrants the ability to come out of hiding — a social security number allows DREAMers to obtain a driver's license, which, in tandem with a work permit, allows them to seek lawful employment. DREAMers can drive, work, and go to school without a looming threat of immediate deportation. With the protections of DACA set to end within the next six months, the domino effects to DREAMers could be ruinous not just to individual families, but to the American economy.
On Friday, entrepreneurs and business leaders from more than 500 companies issued an open letter demanding that Trump protect DACA, stating that American GDP would lose $460.3 billion if all 780,000 DREAMers were forced to stop working if DACA were to end.
DACA may not be perfect but summarily ending the program is not the answer, as it puts the integrity of millions of families in jeopardy while simultaneously threatening U.S. economic interests.