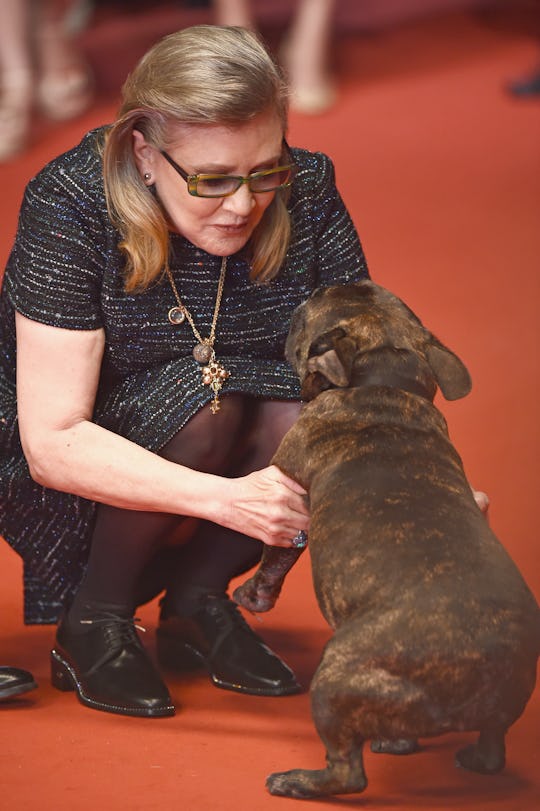 Ian Gavan/Getty Images Entertainment/Getty Images
Carrie Fisher's Dog, Gary, Will Need A New Home
On the morning of Dec. 27, Star Wars icon Carrie Fisher passed away, leaving the world with one less bright star. While the actress obviously had her number of fans, in recent years her fans have also become fans of her cute little dog, Gary Fisher. With Fisher's passing one has to wonder what will happen to Carrie Fisher's dog, Gary Fisher, now? Sadly, this adorable pup is going to need a new home.
Fisher suffered a massive heart attack on Dec. 23 during a flight from London to L.A. while on a book tour for her autobiography The Princess Diarist. According to Mirror, during her last few days in the hospital, Gary was right by Fisher's side. A French bulldog, Gary was small enough to snuggle close to Fisher during her final days.
According to Heavy, Gary wasn't just a close companion, but was also Fisher's therapy dog. The 60-year-old, who was diagnosed with bipolar disorder when she was 29, was always open about her mental health struggles. During an interview with Herald Tribune back in 2013 when Gary was only a year old, Fisher said, "Gary is like my heart. Gary is very devoted to me and that calms me down."
Once Gary joined the family, wherever Fisher went, he went too. From red carpets to press junkets to everything in between, Gary was there. Fans and the media got used to Gary following Fisher around and even started to expect to him, especially while Fisher was doing press for The Force Awakens in 2015. Gary is so well known he even has own Twitter account that has 26.2 K followers.
While Gary may have been enlisted to support Fisher, there's no doubt the dog fell in love with Fisher just as fans everywhere did and became attached. As fans mourn the loss of Fisher, "Gary" also Tweeted about her passing.
Although Fisher is gone, there's no doubt Gary will stay in the family. Most likely, Fisher's daughter, Billie Lourd, or Fisher's mother, Debbie Reynolds, will take care of Gary now. Gary may be a dog but he's also family and just as he was always there for Fisher, he will remain by the family's side during this trying time.