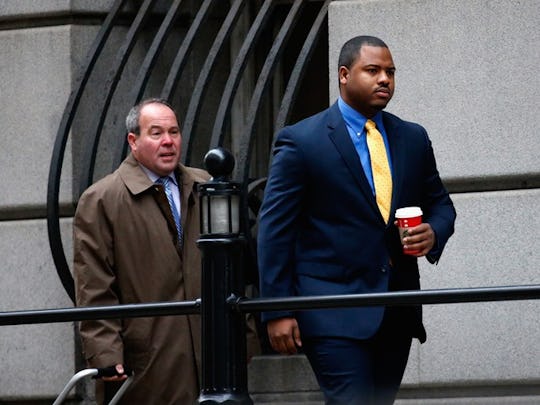 Rob Carr/Getty Images News/Getty Images
What Will Happen To Officer William Porter After The Mistrial? He Will Likely Await A New Trial As Protests Erupt
Judge Barry G. Williams, who was presiding over the case on Officer William Porter's role in the death of Freddie Gray, declared a mistrial Wednesday, according to the Washington Post. The jury deliberated for a total of 16 hours over three days but was unable to agree on whether Porter was culpable in Gray's death. What will happen to Porter after the mistrial?
Prosecutors allege that Gray, who was arrested in April, was the victim of a "rough ride," that is, he was shackled at his hands and feet, but not safely restrained in the police van, according to the Post. They claim that the arresting officers intentionally drove recklessly in order to harm Gray, and the result was a nearly-severed spinal cord. Medical experts compared his injury to one that would be sustained by diving into shallow water. Porter faced charges of involuntary manslaughter, reckless endangerment, second-degree assault, and misconduct in office for failing to secure Gray with a seatbelt. Five other officers involved in the incident also face charges; their trials are forthcoming.
Attorneys are set to appear in court Thursday morning to pick a date for a retrial for Porter, though he is not expected to attend, according to the Baltimore Sun. Porter has been free on $350,000 bail since he was charged in May, and has been suspended from the Baltimore Police Department, according to the Post.
While originally suspended with pay, the suspension was changed and the department eventually revoked his pay because he's charged with a felony, according to the Sun.
It's unclear whether Porter will remain on suspension without pay, though it's likely that status won't change until a new trial date is set or until the state decides not to retry Porter. (The latter instance is unlikely.) Prosecutors in the case argued that Porter did not get Gray medical care when he was obviously in distress and that he disregarded department regulations that require officers to buckle suspects with seat belts, according to the New York Times.
The defense painted a different picture of the incident. Defense attorneys argued that Porter acted reasonably with the information he had at the time, according to the Post. They said that Gray didn't show signs of injury and that Porter asked Gray twice if he needed medical attention. But Janice Bledsoe delivered a passionate closing statement directly contradicting the defense's claim, according to the Times:
How long does it take? How long does it take to click a seatbelt, and click a radio to ask for a medic? Two seconds? Three seconds? Maybe four seconds? Is two, three or four seconds worth a life?
Porter, who is a black man, said he knew Gray because he patrolled west Baltimore, according to the Times. He insists that he did not act maliciously when handling Gray:
It was traumatic for me, also. Freddie Gray and I, we weren't friends, but we had a mutual respect.
It's unclear when a retrial could take place, but protestors who have already taken to the streets in Baltimore believe the mistrial is only further delaying justice for Gray.
Image: Getty Images (3)