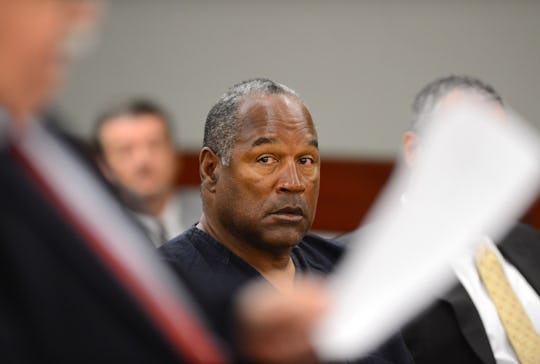 Ethan Miller/Getty Images News/Getty Images
What Will Happen To OJ Simpson Now? A Knife Was Reportedly Found On His Property
For those who followed the O.J. Simpson case in real time and those who have been following FX's recent depiction of the case in The People v. O.J. Simpson: American Crime Story, a new piece of evidence may have emerged. A construction worker allegedly found a blood-stained knife on O.J. Simpson's estate when Simpson's house was being demolished. But what will happen to Simpson after the discovery of the knife? The knife still has to undergo testing. Additionally, Simpson was previously acquitted of the murders of Nicole Brown Simpson and Ronald Goldman in 1995. Simpson's current legal team did not immediately respond to Romper's request for comment.
It's important to note that the knife was not found recently. According to the New York Post, the man who found it, found it "years ago." It was only this January that it finally found it's way to LAPD's Robbery Homicide Division. Because of its pertinence to such a high-profile case, the weapon is being tested for DNA and fingerprints at LAPD's Serology Unit, sources told TMZ. The knife appears to have dried blood on its blade, though if this is connected to the murders of Brown Simpson and Goldman, that blood would be very old. Even with sophisticated technology, it may be difficult to extract any information from the knife because of the years that have passed since this case was closed. On top of that, the veracity of the knife's provenance will be scrutinized since it has been in others' possession for so long.
After a long investigation, an iconic highway chase, and a surprising, blundering trial, Simpson was acquitted of both murders in 1995. What that means is that even with the emergence of new evidence — evidence that could prove his involvement in the murders — he could not be tried again. Double jeopardy rules state that a person cannot be tried for the same crime twice. If new evidence surfaces that can prove that a convicted person is innocent, a case can be reopened. But, since Simpson was found innocent of this particular crime, the case cannot be reopened to prove that he is guilty. These regulations stop prosecuting teams from getting multiple chances at proving the guilt of an accused suspect. Regardless, it will be interesting to see the results of the LAPD's tests.
Though the knife can't, the show The People v. O.J. Simpson: American Crime Story figuratively reopened the Simpson case. It throws light on the intricacies and shortcomings of the American legal system, then and now. The case and its dramatization brought attention to those inner workings on a national scale, and this knife is only the latest chapter in a very American story that never seems to end.