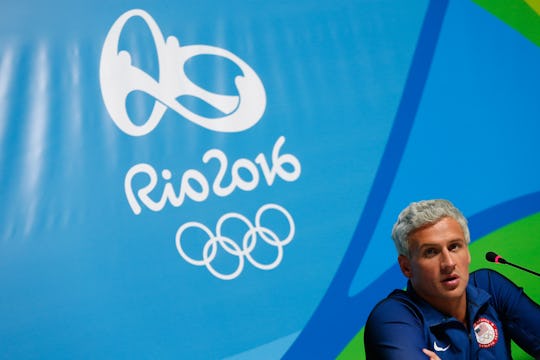 Matt Hazlett/Getty Images Sport/Getty Images
What Will Happen To Ryan Lochte After His Alleged Robbery Lie? It Doesn't Look Good
The scary story about a group of Olympic swimmers being robbed at gunpoint in Rio, including most notably, Ryan Lochte, is quickly unraveling. New information, including CCTV footage now in the hands of Brazilian law enforcement officials, seems to prove that what in fact transpired was a drunken act of vandalism. What will happen to Ryan Lochte after his alleged robbery lie?
"And then the guy pulled out his gun, he cocked it, put it to my forehead, and he said, 'Get down,' and I put my hands up. I was like, 'Whatever,'" Lochte told NBC in recounting the incident, according to Vox.
The incident in question happened at around 6 a.m. early Sunday morning in Rio after Lochte, along with fellow swimmers Jack Conger, Gunnar Bentz, and Jimmy Feigen, stopped at a gas station in the Rio Suburb of Barra da Tijuca. Lochte said he was robbed and a gun was put to his head. But investigators in Brazil weren't able to confirm the story. Instead, according to an anonymous official quoted by The Boston Globe, the four men went to a gas station drunk and broke a door.
So why would Lochte make the story up? His representatives have not responded to requests for comment.
Lochte left Brazil on Monday, but the other three swimmers were still in the country and detained for further questioning. The Globe reported that Conger and Bentz were yanked off their return flight home on Wednesday night, and confirmed the robbery story was fake. Feigen is also cooperating with Brazilian police and was still in Rio on Wednesday night, according to USA Today.
"I'm just trying to give Brazil what they need or what they want and get out of here,'' Feigen told USA Today on Wednesday night. "It's a hassle. But I'm safe, everything's fine.''
According to the Washington Post, the U.S. swimmers were trying to leave after vandalizing the gas station, but were swayed to pay for the damages after a security guard waved a gun in their direction. Not exactly the same as being robbed at gunpoint.
According to USA Today, giving false information to police is punishable by six months in jail. But most likely it's Lochte's reputation that will take the biggest hit. According to ESPN, Lochte will likely lose all of his endorsements as a result of this. He currently represents brands like Speedo, Ralph Lauren, Marriott, and Airweave, a hair removal company.
Besides the personal financial repercussions, and embarrassment for Lochte and his teammates, their bad behavior casts a shadow over the entire U.S. Olympic team and wasted the time and resources of Rio officials trying to keep everyone safe. Let's hope everyone has learned a lesson out of this.