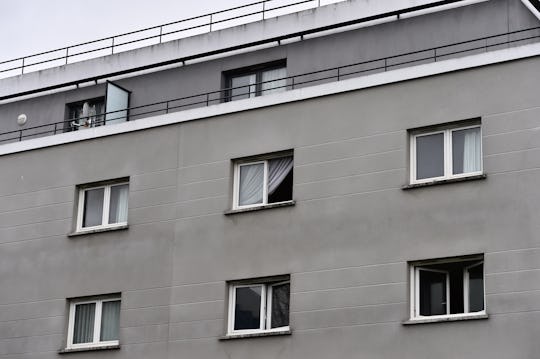 LOIC VENANCE/AFP/Getty Images
What Will Happen to Salah Abdeslam? The Paris Attacks Suspect Was Captured in Brussels
A suspect from the Nov. 13 Paris attacks, Salah Abdeslam, was captured in the Molenbeek neighborhood of Brussels on Friday, according to The Guardian. Now that he has been arrested, what will happen to Salah Abdeslam? After four months on the run, the captured 26-year-old suspect was injured but alive after a shootout during a police raid.
Speaking at a joint press conference on Friday with Belgium's prime minister, French President François Hollande spoke of the next steps for Abdeslam. "We are aware that if this arrest is an important step, it is not the definitive conclusion," Hollande said. "I know the Belgian authorities will respond quickly and favorably to our request for extradition."
France will look to extradite Abdeslam as quickly as possible, and Hollande said the French Security Council would be called for a special meeting, according to Newsweek. "I have total confidence in the achievement of these extradition procedures," President Hollande said, as reported by NPR. "Abdeslam should be interrogated in France and be judged in France."
Abdeslam reportedly fled Paris by car only hours after the Nov. 13 attacks. According to The Guardian, police believe he was part of the logistics behind the attacks and possibly accompanied the three suicide bombers who attacked the Stade de France. Abdeslam's late brother, Brahim, was the suicide bomber who targeted a Paris café as part of the attacks, which killed 129 in total and injured over 350, according to the BBC.
Earlier on Friday, the Belgian federal prosecutor's office said that Abdeslam's fingerprints were found in another Brussels apartment, according to Al Jazeera. The Tuesday raid on that apartment ended after two suspects escaped, and reports claim that Abdeslam was likely one of the two. A 35-year-old man, Mohamed Belkaïd, was killed during the raid. "Next to his body was a Kalashnikov, a book on Salafism, and an Islamic State flag," said Thierry Werts, Belgian federal prosecutor, according to The Guardian. The Belgian prosecutor's office also reportedly said that Belkaïd was likely involved in the logistics of Paris attacks.
Now that Abdeslam has been arrested, he would need to be charged and taken to trial. Both Belgium and France have abolished the death sentence, and according to ProPublica, current laws in the countries make it difficult to keep terrorists imprisoned. "Penal policies have not adapted to the reality of the terrorist threat," Louis Caprioli, a former counter-terror chief in France, told ProPublica. "Terrorists are treated like common criminals when it comes to sentencing, even if they are repeat offenders. We have to take these guys off the streets. The philosophy has been to rescue the individual rather than to protect the society."
The average sentence for terrorists in France in 2013 was seven years, according to ProPublica. In Belgium in 2015, 45 people associated with an extremist group recruiting and sending fighters to Syria were charged with sentences up to 15 years. Considering that the murder count was incredibly high in the Paris attacks, life imprisonment is likely for someone like Abdeslam, who played a key role in carrying out the attacks.
Judging by the speed in which President Hollande is looking to extradite Abdeslam to France, the public should have more information on the case soon enough.