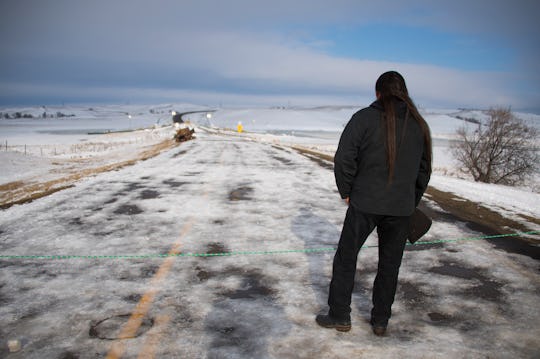 JIM WATSON/AFP/Getty Images
What Will Happen To The Dakota Pipeline? Officials Are Exploring "Alternate" Options
The U.S. Army Corps of Engineers made a huge announcement on Sunday. Officials are halting construction on the Dakota Access Pipeline, preventing it from crossing under a lake on the Standing Rock reservation in North Dakota. This is a monumental victory for the Standing Rock Sioux tribe, as well as all the Native Americans and activists who stood with them over the past months. Many are wondering what will happen to the Dakota Access Pipeline now; So far, officials have announced that they'll be starting to explore alternate options.
North Dakota Governor Jack Dalrymple had ordered the protestors to evacuate their campgrounds by Monday. With the arrival of over 2,000 veterans at the Standing Rock campgrounds from across the country on Sunday, the protestors made it clear they were not going anywhere. The Dakota Access Pipeline would connect the Bakken and Three Forks oil production areas in North Dakota to another existing oil terminal in Illinois, running for 1,172 miles, according to a statement disseminated by the Army Corps of Engineers on Sunday. The pipeline was supposed to cross Lake Oahe, which is an Army Corps project on the Missouri River, and which lies 0.5 miles from the Standing Rock Sioux tribe.
Jo-Ellen Darcy, the Army's Assistant Secretary for Civil Works, announced on Sunday that the Department of the Army will not approve an easement that would allow the pipeline to cross under the lake.
Now that the easement will not be approved, officials are exploring alternate options to continue the pipeline. "The best way to complete that work responsibly and expeditiously is the explore alternate routes for the pipeline crossing," Darcy said her in announcement on Sunday, adding that the "consideration for alternative routes would be best accomplished through an Environmental Impact Statement with full public input and analysis."
An Environmental Impact Statement is a document required by the National Environment Policy Act (NEPA) for actions that might significantly affect the quality of the human environment. This helps government officials decide whether to pursue something that many cause serious damage to the environment, while also proposing alternate options. While it's not clear what alternate routes the Dakota Access Pipeline and Energy Transfer Partners will explore, this step could help them find an environmentally friendly path.
While the Standing Rock protests will be coming to an end, Jo-Ellen Darcy knew that discussions surrounding the Dakota Access Pipeline were far from over, adding in her statement that "it's clear that there's more work to do."