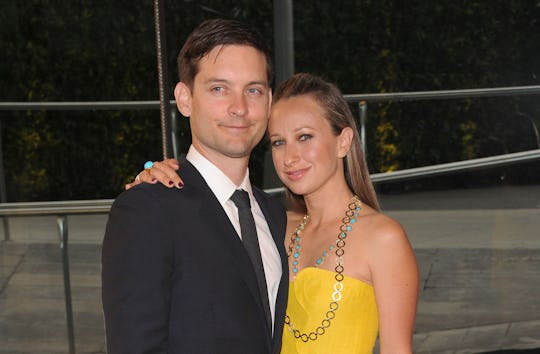 Jamie McCarthy/Getty Images Entertainment/Getty Images
What Will Happen To Tobey Maguire & Jennifer Meyer's Kids? The Couple Is Splitting Up
Another couple has succumbed to the Curse of 2016, The Year That Love Died (trust me, that will be the title of an actual history book your grandchildren will read). The latest split is between Tobey Maguire and Jennifer Meyer, whose two kids will sadly bear some of the fallout. The good news is that Maguire and Meyer provided a joint statement to People which read, in part, "As devoted parents, our first priority remains raising our children together with enduring love, respect and friendship." Sounds a lot like conscious uncoupling without the pretentious buzzwords. Good for them.
Former Spider-Man Maguire met Meyer, a jewelry designer, back in 2003. They welcomed their first child, daughter Ruby Sweetheart Maguire, in 2006. Her middle name was meant to honor Mayer's late grandmother. The couple married in Hawaii the following year, during a ceremony that featured both a sunset and Leonardo DiCaprio. The birth of their son, Otis Tobias Maguire, followed in 2009. The family was spotted by paparazzi a few times over the summer, looking like "a picture perfect family" as they shopped, attended a fashion show, and played carnival games at a fair in Malibu. Damn it, 2016, what did you do to them?
It's not hard to understand why prioritizing the children's well-being is so important to Maguire; in 2007 he told Parade magazine (via People) that he was also a child of divorce. His parents were just 18 and 20 when he was born, and after splitting when he was 3 years old, he was bounced around between various relatives. "They were just babies, doing whatever the heck they thought they should be doing," Maguire said, but "I realized at a young age that I was responsible for myself. My feelings of love or security or happiness – they were all in my own hands."
Luckily for Ruby and Otis, their parents seem older and wiser, and no doubt have more financial resources than the previous generation did. It's also good news that this particular celebrity divorce isn't messy and acrimonious like the the Jolie-Pitt divorce is rumored to be, complete with complicated custody arrangements and alleged drug tests. It seems like the Maguire kids are going to be OK, so that's good news, at least. As far as why every famous couple seems to be splitting up left and right, that's anybody's guess. I'm going to blame the election.