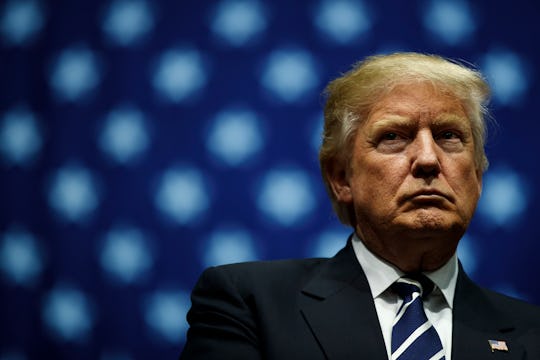 Drew Angerer/Getty Images News/Getty Images
What Will Happen To Trump's Businesses? He Just Delayed An Important Announcement
Donald Trump announced last month that he would leave his businesses to dedicate his focus on the presidency, putting his adult children — Donald Jr., Ivanka, and Eric — in charge of his vast empire. An official news conference was set for Dec. 15 , which is when he was expected to address how he plans to step back from running his businesses to avoid conflicts of interest. But the president-elect is reportedly now delaying the announcement until a later date in January, which has yet to be set. With Inauguration Day just around the corner and no official plans for his businesses set in stone, many may be wondering: What will happen to Trump's various businesses?
"The announcement will be in January," Trump spokesman Sean Spicer told Fox News on Monday, adding that Trump has been occupied with filling out his Cabinet instead.
According to CNN, Trump owns or has a position in more than 500 companies, and 150 of them "have done business in at least 25 foreign countries, including Turkey, Qatar and Saudi Arabia." With stake in hundreds of companies all over the world, questions about potential conflicts of interest that might influence his role as president have certainly been looming since the real estate mogul was elected last month.
Trump somewhat addressed these concerns in a series of tweets on Nov. 30, announcing that he'd be leaving his "great business in total" to focus on "running the country."
"While I am not mandated to do this under the law, I feel it is visually important, as President, to in no way have a conflict of interest with my various businesses," he wrote on Twitter.
While Trump has divulged very few details about his planned separation from his businesses, The New York Times reports that he intends to keep a stake in the Trump Organization, a conglomerate that owns properties around the world.
But as NPR reported, most presidents put their assets and investments into a blind trust managed by an independent trustee. Ethically, that means that person can't be a member of his family, which is what he's planned to do all along.
As far back as January, during a Fox Business primary debate, Trump was posed a question about this particular situation and he had a similar plan as he does today:
If I become president, I couldn't care less about my company. It's peanuts. I want to use that same — up here, whatever it may be — to make America rich again, and to make America great again. I have Ivanka and Eric and Don sitting there. Run the company, kids. Have a good time. I'm going to do it for America. ... I would put it in a blind trust. Well, I don't know if it's a blind trust if Ivanka, Don and Eric run it. But — is that a blind trust? I don't know. But I would probably have my children run it with my executives. And I wouldn't ever be involved, because I wouldn't care about anything but our country. Anything.
Until Trump's announcement takes place next month, it's still unclear what exactly will happen to his businesses. But, if his mind hasn't changed in the past month then it's safe to assume his ownership of the company will be into the hands of his three oldest children, who will in turn be in control of the empire and its day-to-day operations — and still in communication with their father.