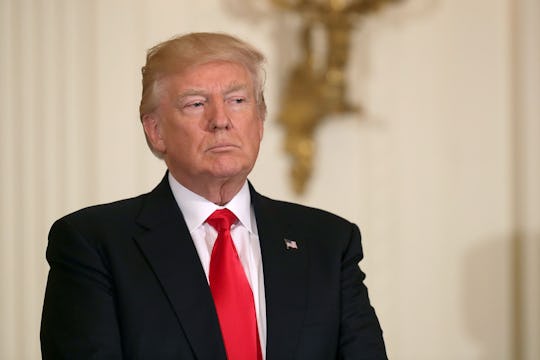 Chip Somodevilla/Getty Images News/Getty Images
Federal Appeals Court Rules Against Travel Ban
On Thursday, a federal appeals court sided with a Maryland federal court ruling that put a freeze on President Donald Trump's second attempt at a travel ban. What will happen to Trump's travel ban now? It's a huge blow for the president and his administration. The U.S. Court of Appeals for the 4th Circuit upheld one injunction against Trump's revised travel order; the U.S. Court of Appeals for the 9th Circuit has yet to rule on a separate injunction against Trump's revised travel ban ordered by a Hawaiian federal judge. Trump has yet to respond to the ruling, as he is currently in Brussels, Belgium for his first meeting with NATO.
This latest ruling against Trump's revised travel order comes after his first draconian travel ban was ruled unconstitutional by a panel of three judges on the 9th District Court. The majority opinion — over 200 pages in length, according to CNN — in Thursday's decision was written by Chief Judge Roger L. Gregory, who wrote the following:
Congress granted the President broad power to deny entry to aliens, but that power is not absolute. It cannot go unchecked when, as here, the President wields it through an executive edict that stands to cause irreparable harm to individuals across this nation.
Trump's second attempt at a travel ban attempted to clarify much of a vagueness of his first travel order, signed less than a week into his presidency. Trump's initial travel order was widely regarded as a ban on Muslims, when his order placed temporary entry bans from seven majority Muslim nations. While the revised travel order shortened the ban list to just six majority Muslim nations, lawyers for the plaintiffs in this case argued that it still constituted a "Muslim ban" on the grounds of how Trump framed his planned travel order while he was on the campaign trail.
The 4th District Court agreed, in a 10 to 3 ruling upholding the injunction. From the court's opinion:
The evidence in the record, viewed from the standpoint of the reasonable observer, creates a compelling case that [the executive order's] primary purpose is religious. Then-candidate Trump's campaign statements reveal that on numerous occasions, he expressed anti-Muslim sentiment, as well as his intent, if elected, to ban Muslims from the United States.
For now, the White House administration's case to enact the travel order remains on hold pending the outcome of an appeal on the second injunction against the travel ban. The next most likely stop for Trump's travel ban will be to the Supreme Court, assuming the court agrees to hear Trump's case. Even so, as The Atlantic notes, there's no guarantee the Supreme Court would hear Trump's case, and if they do, it likely wouldn't be heard until the court's next term, which resumes in October after its summer recess.
For now, Thursday's ruling against Trump's travel order is a major win for immigration advocates who hope that the 9th District Court will soon follow suit.