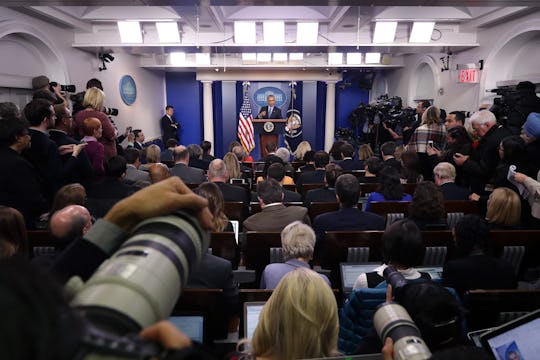 Chip Somodevilla/Getty Images News/Getty Images
White House Press Briefings May Be Changing
On his path to the presidency, President-elect Donald Trump developed a rather contentious relationship with the press — and it's one that hasn't exactly improved in the days and weeks leading up to Trump's inauguration. During his first press conference as president-elect, Trump refused a CNN reporter's question, labeling him "fake news," and called BuzzFeed a "failing pile of garbage." Needless to say, Trump's relationship with the press is off to a rocky start. So where, exactly, will it go from here? What will happen to the White House press briefings the public has grown used to?
According to ABC News, press briefings may actually be moved outside of the White House press room during Trump's administration. Trump's transition team has reportedly discussed moving press briefings from the White House West Wing — where press conferences have unfolded for years now — to the Executive Office Building beside the White House or the White House Conference Center by Lafayette Square.
When asked about the possible move, Trump's chief of staff, Reince Priebus, said in a statement to ABC News:
The one thing that we discussed was whether or not we want to do conferences in the [Executive Office Building]. ... Which, by the way, is the White House. So no one is moving out of the White House. That is the White House, where you can fit four times the amount of people in the press conference, allowing more press, more press coverage from all over the country to have those press conferences. That's what we're talking about.
Trump's White House press secretary Sean Spicer said the possible move would allow "additional capacity to accommodate members of media including talk radio, bloggers and others," according to ABC.
But an unnamed senior official reportedly told Esquire that there was another reason the transition team was considering the move. "They are the opposition party," he allegedly said of the press. "I want 'em out of the building. We are taking back the press room."
Jeff Mason, the president of the White House Press Correspondents Association (a group of journalists that cover the White House) told ABC that the association would rather remain in the White House's current press room. "The briefing room is open now to all reporters who request access. We support that and always will," he said. "We object strenuously to any move that would shield the president and his advisers from the scrutiny of an on-site White House press corps."
If the press does get moved from their current post in the White House, it would be interesting to see which additional outlets would gain access to the president-elect — or if any journalists with current access would lose their credentials, as some media outlets experienced during Trump's campaign. For now, however, it seems the transition team is still deciding whether or not to make this historic move.