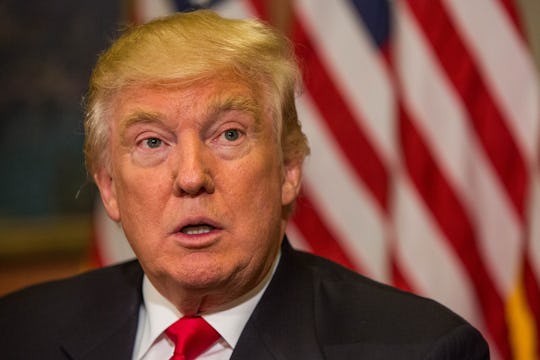 Zach Gibson/Getty Images News/Getty Images
What Will Happen To Women's Rights In A Trump Presidency? There's A Lot At Risk
A deeply divided nation is still coming to terms with the fact that Donald Trump will enter the White House as the 45th President of the United States in just a few short months. For many who were surprised by this unexpected election result, it's understandable that they want some of their concerns are answered before the now president-elect soon moves into the Oval Office. While many women are still mourning over the loss of the long dream of the first female presidency becoming a reality, many are now worried about what this next chapter of American politics mean for them. So, what will happen to women's rights in a Trump presidency? The 70-year-old real estate mogul will most likely follow the Republican Party's lead on many policies that greatly affect women.
Trump has already made it abundantly clear that he would be a pro-life president. As recently as Sept. 2016 he made promises to pro-life groups that would drastically limit women's right, specifically their choices on reproductive health. In the letter addressed to "Pro-Life Leader," Trump wrote that he will defund Planned Parenthood, nominate pro-life justices to the Supreme Court, and sign the Pain-Capable Unborn Child Protection Act into law, which would be a virtual ban on abortions after 20 weeks. Now, with a Republican House and Senate likely to run the show, many of these promises might become a reality.
Sujata Moorti, a feminist studies professor at Vermont's Middlebury College, told Al Jazeera that there is reason to be concerned with Republicans and Trump in control. She said, "It is not just the Trump win but the fact that Republicans now control Congress that bodes ill for progressive politics …reproductive rights, minimum wage … policies against sexual assault, marriage equality … healthcare - all are likely to be overturned."
With all of these rights at risk of being taken away, women are already concerned about a Trump presidency and are rushing to take care of things before Jan. 20, such as their birth control method. As Trump has made it no secret that he plans to repeal the Affordable Care Act — one of President Barack Obama's legacies that guarantees women free access to birth control — things could be very different, very soon.
In short, there is a lot at risk. Feminist writer Jill Filipovic shared similar concerns in a recent piece for The Washington Post and wrote that, "with a Republican House, a Republican Senate and Trump in the White House, a lot could get ugly in the next four years."
"As for women's rights, Trump's victory has in effect legitimized misogyny — the sexism, particularly the violent imagery directed at Clinton, racism, ableism, homophobia and transphobia that characterized so many Republican campaigns have now been authorized by voters," Moorti told Al Jazeera in the same interview.
There's also Trump's long history of alleged misogyny that a good majority of American women find upsetting and hard to forgive and forget. When you think about what might happen in near future and remember the time when Trump bragged on tape about groping women or how nearly a dozen women have accused him of sexual assault, it's no surprise that the next four years seem a bit scary for so many women.
While nothing is a done deal until laws are passed and things are official, many women's rights are surely in jeopardy. A Trump presidency isn't something many were expecting to happen, but American women need to stay together to continue fighting for these rights to keep progressing and not digress from the all of the hard work that has already been done.