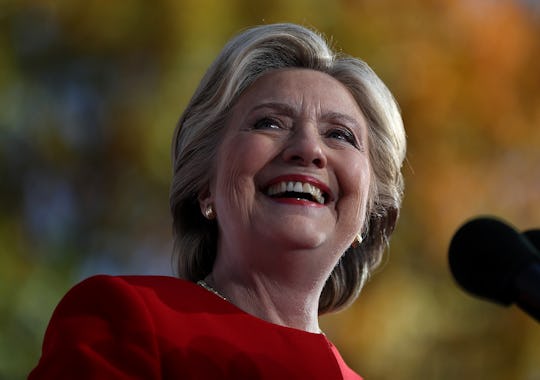 Justin Sullivan/Getty Images News/Getty Images
What Will Hillary Clinton Do If She Loses? Probably Keep Kicking Ass
As the 2016 presidential election gets closer to the finish line, many Americans may be stressing over every possible outcome and scenario that could possibly come to fruition after all of the ballots are counted and tallied. For example, if Republican candidate Donald Trump loses the general election, he has made some not-so-subtle hints that he will not accept defeat and will challenge the results — and his followers would likely stage some sort of protest or riot, given remarks by high profile Republicans like Milwaukee Sheriff David Clarke ("It's pitchforks and torches time"). But, what about Trump's rival? What will Hillary Clinton do if she loses? The Democratic candidate hasn't exactly addressed that hypothetical situation, but if her decades of experience are any indication of what her future would be, it's probably a safe assumption that she'll keep moving and shaking as always.
While it's not entirely clear what position or role Clinton would take on if she loses the presidential election on Nov. 8, it's also a safe bet that she won't completely disappear from the public sphere. If she does lose, some believe that 2016 would have been her final shot at the Oval Office, simply because of her age. By the next election cycle 2020, Clinton will be approaching 72 years old. Many more agree, however, that if the former Secretary of State does not become the 45th president of the United States, Clinton will still have a fairly active political career.
If she wanted, Clinton could possibly dedicate more time and energy by returning to the Clinton Foundation, the nonprofit organization her husband, President Bill Clinton, established 19 years ago (Clinton herself officially joined the foundation as a named member in 2013, following her tenure as Secretary of State). At the nonprofit, Clinton had planned to continue her work on issues affecting women and children, as well as economic development in the global community.
As Politico noted about her presence in the foundation (which was later named "The Bill, Hillary & Chelsea Clinton Foundation") back in 2013, the Democratic candidate could continue to make use of the "exceptionally visible platform to focus on issues she cares about" going forward — whether it means working on past projects or establishing further initiatives.
Clinton may also take on an entirely different leadership or diplomatic role for the Democratic Party. She could also be a very valuable asset to political media coverage. The possibilities for Clinton if she doesn't win the election are endless, as she already has a sturdy and well-established platform and presence from which to build.
"When it comes to the presidential race, there can only really be two finalists for the top job and one ultimate winner," PBS' Dan Cooney wrote back in March. "Many leave the campaign trail when they realize that their path to victory is no longer realistic. But leaving the race does not necessarily mean the future is bleak. In fact, many past candidates have used their campaigns as a springboard into other prominent roles."
One thing is for certain, Clinton's future would not be bleak if she were to lose the election on Nov. 8. While she'd likely work effectively in the White House, out of the White House, she'd still continue to kick ass, just as she has for the past 30 years.