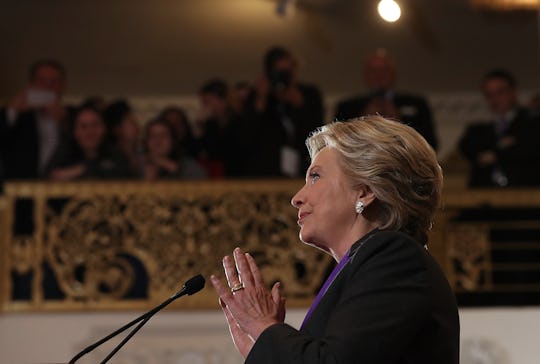 Justin Sullivan/Getty Images News/Getty Images
What Will Hillary Clinton Do Next? She Doesn't Plan To Stop Fighting For Her Causes
On Wednesday morning, Democratic nominee Hillary Clinton addressed supporters and gave her concession speech in New York, where she praised opponent Donald Trump's victory, offered to work with him, and vowed to continue fighting for a better United States. While her supporters have been despondent since her defeat in the polls early Wednesday morning, many will continue to follow the former secretary of state's political career going forward. But what, exactly, will that look like? What will Hillary Clinton do next?
After Clinton's vice-presidential pick, Tim Kaine, addressed supporters on Wednesday, Clinton took the stage and offered a few hints about what was next for her. "Last night I congratulated Donald Trump and offered to work with him on behalf of our country," she said. "Let me add: Our constitutional democracy demands our participation, not just every four years, but all the time. So let's do all we can to keep advancing the causes and values we all hold dear."
So what's next for the former Secretary of State, senator, and first lady, who has now lost the presidential bid not once, but twice? It's unlikely that she'll run a third time for president — four years from today, Clinton will be 73, an age that might give voters pause. I don't think anyone could blame Clinton if she were just entirely unwilling to endure a third election cycle, either. American voters were not exactly kind to the most politically prepared candidate on the ballot this year.
Despite her defeat on Election Day, the future is likely bright for Clinton. She's been working in politics since the mid-1970s, giving her decades of experience and making her a top Democrat. Her speech gives us a hint that she'll continue on in the world of politics, and Trump could open up room for her — which would likely be a good move on his part, in order to attempt to win over Clinton supporters who saw her lose the electoral vote. However, judging by Trump's many comments about Clinton during the presidential campaign and his proposed Cabinet, that seems highly unlikely.
However, as an experienced Democrat, Clinton could have a place in a future Democratic administration, running as vice president or filling a Cabinet role: she's already been Secretary of State, but she could become chief of staff or a national advisor. Alternatively, Clinton could skip the four-year wait and step into a leadership role for the Democratic Party, which has had its fair share of upsets throughout this election cycle. She could occupy a diplomatic role, thanks to her years of experience, or help lead the political party through the next four years and it search for its next candidate.
Finally, Clinton could continue fighting for her causes through the Clinton Foundation, where she would have an excellent platform to give speeches and inspire others to catalyze change. After all, as President Obama said on Wednesday morning, "[Clinton] has lived an extraordinary life of public service. She was a great first lady, she was an outstanding senator for the state of New York, and she could not have been a better secretary of state." She still has a great many lessons to share with the world, and drawing on her decades of political experience could help her advance select causes from within the Clinton Foundation.
It may be a while until we learn what's next for Clinton — but until then, we can look back on her amazing legacy and use that as inspiration to push forward.