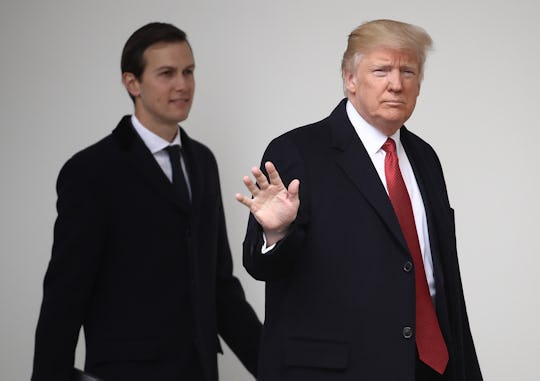 Win McNamee/Getty Images News/Getty Images
Jared Kushner's New White House Role Will Focus On 'American Innovation'
It was a challenging week for President Donald Trump, after the GOP chose to pull a vote on its all-important healthcare bill due to lack of party support. After the decision, numerous outlets reported that Trump was angry at his senior adviser (and son-in-law) Jared Kushner for being away on vacation during the debacle, but if he was, it must have been short-lived: on Monday, the President announced that Kushner will actually be leading a newly-created White House office focused on bringing fresh business ideas to the government. What will Jared Kushner's White House role be? According to The Washington Post, Kushner will head up the White House Office of American Innovation, described as "a SWAT team of strategic consultants," with business backgrounds meant to "infuse fresh thinking into Washington."
Despite having no actual government experience, Kushner has been a trusted member of Trump's inner circle, and the President has long sang his son-in-law's praises. According to The Washington Post, Kushner — a former real estate executive — has already been assisting Trump in roles related to foreign and domestic policy, including acting as the President's "lead adviser on relations with China, Mexico, Canada and the Middle East." In fact, despite his complete lack of actual diplomatic experience, Trump praised Kushner in January as the perfect choice to oversee Israeli-Palestinian relations, according to The Guardian, even telling German magazine Bild that Kushner would "secure an Israel deal which no one else has managed to get."
What made him so sure? Similar to Trump's assessment of his own skills and strengths, Trump told Bild that Kushner's "natural talent," would ensure his success, despite being totally new at the role, according to The Guardian. He said,
You know, he's a natural talent, he is the top, he is a natural talent. You know what I'm talking about – a natural talent. He has an innate ability to make deals, everyone likes him.
So far, Kushner's Middle East deal-making ability has yet to be proven, but in the meantime, it sounds like his new role will at least be a bit more in his wheelhouse as a businessman. According to The Independent, Kushner will be working with some White House colleagues in the new office, including Deputy National Security Adviser for Strategy Dina Powell, National Economic Council Director Gary Cohn, and Strategic Initiatives in the White House Director Chris Liddell. But together they have reportedly already hosted "numerous roundtable meetings with executives" from a variety of industries, and have built collaborative relationships with big-name tech leaders, including Apple CEO Tim Cook, Tesla founder Elon Musk, and Microsoft co-founder Bill Gates.
In a statement to The Washington Post Sunday, Trump explained that the idea behind the new office was to address "government stagnation" which he said "has has hindered our ability to properly function, often creating widespread congestion and leading to cost overruns and delays." That, of course, is a position Trump has long argued — let's not forget all his campaign talk about "draining the swamp" — and now, with the new office, it sounds as though he is attempting to double down on his promises to run the country as a businessman instead of a politician. As Trump noted in his statement Sunday, "I promised the American people I would produce results, and apply my 'ahead of schedule, under budget' mentality to the government." And with Kushner at the helm, it seems he will be trying to do just that.
But if using business strategy in government is Trump's goal, it definitely seems as though he's found a kindred in his son-in-law. In an interview with The Washington Post from the White House Sunday, Kushner reiterated Trump's perspective, and said he thought "the government should be run like a great American company." His goal? Kushner said he wanted to "achieve successes and efficiencies for our customers, who are the citizens."
It's not entirely clear yet what that actually means, or how Kushner and Co. plan on making that happen. But the announcement of a collaboration with private tech and science industries might be particularly telling given that, according to Science, Trump's proposed budget has called for big cuts in government-led research at a number of agencies, including the National Institutes of Health (NIH), the Department of Energy (DOE), the U.S. Geological Survey (USGS), the Environmental Protection Agency (EPA), and the National Oceanic and Atmospheric Administration (NOAA). According to Gizmodo, it seems reasonable to assume then that through the Office of American Innovation, funding for scientific research may be funnelled to private corporations instead (Apple, and Musk's SpaceX, for example).
It would make sense: infrastructure advocate Musk, for one, already has contracts with the government through SpaceX, according to Gizmodo, and Cook currently has his eye set expanding Apple's school-based tech contracts. That might be an attractive option for the Trump administration, who has made no secret of its desire to restrict the authority of the Department of Education via H.R. 610, turning it essentially only into a vehicle for awarding block grants to states through a federal voucher program. And while Gizmodo noted that neither Cook nor Musk appear to actually be fans of Trump and his policies, they also don't really have to be — after all, they've got shareholders to answer to, and bottom lines to look after.
Still, the goals and implications of the new office, and Kushner's new role, aren't clear, and they may not be for some time. But one thing that is obvious? Trump promised to do things differently as President. And for better or worse, he certainly is.