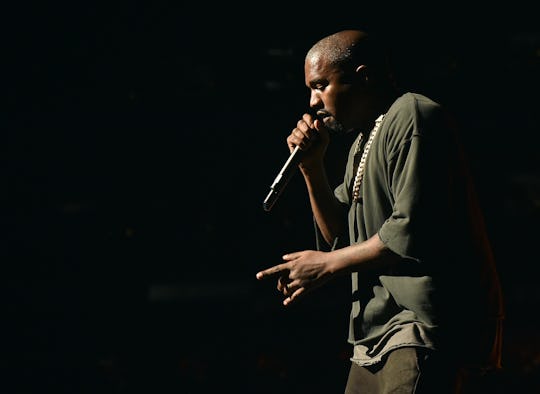 Kevin Winter/Getty Images Entertainment/Getty Images
What Will Kanye's New Album Be Called? It Could Change Several Times Before It's Released
Kanye West can't keep himself off of Twitter and can't seem to keep himself quiet either. Since the release of his album, The Life of Pablo on Feb. 14, West has been incredibly active on Twitter, taking to the site to tweet about a variety of topics, ranging from debt to college textbooks. In his most recent Twitter rant, West revealed that he will be releasing a new album during summer 2016. So what will Kanye's new album be called? Judging by how many times The Life of Pablo underwent a name change, the album's name could morph drastically at any given moment until it finally debuts.
Fans had waited three years for The Life of Pablo to come out, following the release of West's album, Yeezus in the summer of 2013. West hinted at a follow up album to Yeezus in Nov. 2013, a few months after the album was released, hoping that the album would be released by the summer of 2014. As Kanye West fans everywhere saw, it took a little bit longer than just a year to put out The Life of Pablo. (In between time time it took West to release the new album, West got engaged and married Kim Kardashian and additionally fathered a son.)
If you can recall, The Life of Pablo was not always named The Life of Pablo. The album went through multiple name changes like So Help Me God, Swish and Waves before West decided on the official name of the album.
West hinted at the album's namesake, offering a free pair of Yeezys and tickets to his show to whomever correctly guessed the title of the album shortly before its release date.
So what will be the name of West's new album? Judging from the amount of times West changed the name of The Life of Pablo before officially naming it that, this new album's moniker will probably change multiple times too. But, looking at West's twitter account and the most recent things he truly has been passionate about, you can make some assumptions.
West did drop a new song, "Saint Pablo" at a club on Tuesday:
While the name of the song is too close to The Life of Pablo to be considered for an album title, the new album could have something to do with West's children's names, North and Saint, as West has recently tweeted how important his family and friends are to him.
West's album title could also have something to do with freedom, as West tweeted out today how free and happy he truly is, repeating multiple times how he isn't "crazy" just "free."
Whatever Kanye is currently thinking the album title may be, I'm sure he will change his mind just as many times as he did for The Life of Pablo. Lets just hope that he does not make us wait just as long as we did between the last two albums before getting a new release.