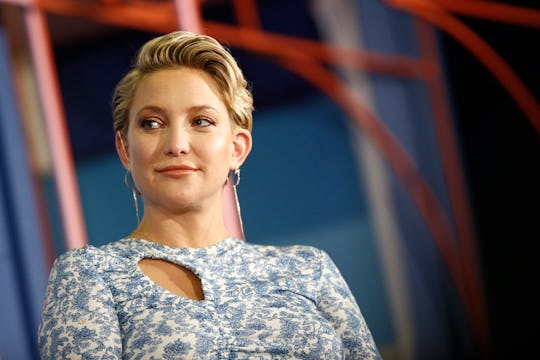 Brian Ach/Getty Images Entertainment/Getty Images
Kate Hudson May Have "An Idea" In Mind For Her Future's Daughter Name
When a baby is on the way, there are always so many questions to ask. When is he or she due? What's the baby going to look like? And of course, what are they going to name it? It's no different with celebrity babies, and since Kate Hudson has been pregnant for some time now (she must be due any day now), fans just have to wait to find out the answer to some very important questions, such as : What will Kate Hudson name her baby daughter when she arrives someday soon?
Well, it seems the mom-to-be knows, but she's keeping her lips sealed for now. And Hudson's best friends Erin and Sara Foster, according to Us Weekly, who also happen to be the baby's aunts on her father's side, aren't giving away any secrets either. In fact, at a Fashion Week event, they told Us Weekly that Hudson and boyfriend Danny Fujikawa "have their baby names," before adding, "Well, she has an idea." Sara then teased that the little girl will be called "Kate Jr." (That would be cute...)
But that might not be the wildest idea considering Hudson's track record with family names. She has two children, both sons, with musicians Chris Robinson and Matthew Bellamy. Ryder Robinson bears the middle name Russell, after Hudson's stepfather Kurt Russell, according to SheKnows. And Bingham Bellamy was named for family members on both sides. His father wrote on Twitter, "For those wondering, Bingham is my mum's maiden name and Bing Russell was Kurt's dad. Family connections all round," when the baby was born in 2011. Bingham's middle name is Hawn in honor of Hudson's mother, Goldie Hawn, according to OK! Magazine.
So could we see another Goldie? It wouldn't be the strangest thing and would actually sound pretty cute for a little girl, right? Another option might be Olive, after Hudson's brother Oliver, with whom she is close, according to the Daily Mail. The actor told the paper, "We have an amazing relationship, my sister and I. Now it changed, because when we were kids I couldn't stand her. She came out of the womb acting and it bothered me. I couldn't stand. Please stop saying, 'Look at me', And now I can honestly say she's one of my best friends. Kate and I get along very well."
But then there's also father Danny Fujikawa's family to consider, though not much is known about them. The nature of his step-sibling relationship with Erin and Sara Foster has not been disclosed publicly, according to Harper's Bazaar, beyond the idea that one of his parents was married to one of theirs. What's more, according to Harper's Bazaar, his family tree, also has links to the Hadid family, the Jenners, and through a 6th degree of separation even Kanye West, if you want to extrapolate.
Given Hudson's penchant for keeping her loved ones close, it's much more likely she and Fujikawa would choose somebody within the immediate family to honor with a name recognition. Remember this all-in-the-family event when she announced the baby's sex alongside both her sons, her brother, and Fujikawa?
And this moment when she showed off her bump taking over her bikini while on vacation? There again she was with her sons, mother and stepfather, and Fujikawa, according to W.
And even her most recent Instagram post celebrates family, shouting out her cousins for winning an Emmy for best Documentary Series:
So all these signs seem to point to another family name coming into the world along with this newest little one, though beyond that, it's all guesses. One thing is for certain though, the baby will be greeted by a lot of laughter and love from one happy family.