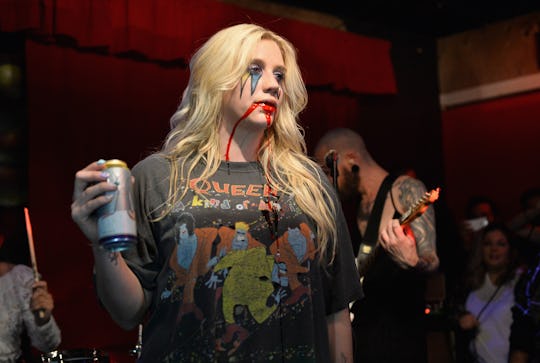 Katie Stratton/Getty Images Entertainment/Getty Images
What Will Kesha Do Next? Her Case Against Dr. Luke Was Just Thrown Out
On Wednesday, pop star Kesha had her case against Dr. Luke thrown out by a New York Supreme Court judge. Justice Shirley Werner Kornreich dismissed Kesha's recent appeal of an injunction to legally sever her contract with Sony Music — an injunction that was rejected by the same judge in late February. The 28-year-old singer, whose real name is Kesha Rose Sebert, filed suit against Dr. Luke in October 2014, alleging that he "sexually, physically, verbally, and emotionally abused" her. Dr. Luke — real name is Lukasz Gottwald — has never been criminally charged in relation to Kesha's allegations and has publicly denied all allegations against him on Twitter.
Wednesday's appeal dismissal was a major blow to the beleaguered "Tik Tok" singer, who is still contractually obligated to produce six more albums with her alleged abuser. So what does all of this mean for Kesha?
Unfortunately, she's pretty much run out of legal options at this point. Understanding the complicated timeline of Kesha and Dr. Luke's relationship is important to get a sense of just how devastating Wednesday's dismissal is to Kesha's future musical prospects. There could be one very tiny glimmer of legal hope for her with suit filed in California — but it's not looking good.
On Monday, Kesha posted an Instagram in which she alleged Sony Music had offered her an out from her contract — but only if she recanted her rape allegations against Dr. Luke:
I got offered my freedom IF i were to lie. I would have to APOLOGIZE publicly and say that I never got raped. THIS IS WHAT HAPPENS behind closed doors. I will not take back the TRUTH. I would rather let the truth ruin my career than lie for a monster ever again.
Kesha originally filed her suit against Dr. Luke in California, but the 42-year-old music producer successfully lobbied to have the suit moved to New York courts; As such, Kesha's California suit against Dr. Luke was halted in June last year pending the outcome of what happened in the New York courts. The first blow came in February when a New York judge denied an injunction to release her from her Sony Music contract. Kesha and her legal team appealed the decision and Wednesday's dismissal of her appeal has railroaded any further legal action in the New York courts system.
But what about her lawsuit in California? Wednesday's dismissal will certainly not work in Kesha's favor. Additionally, Kesha may have potentially ruined her own chances of ever successfully suing Dr. Luke as the result of a separate lawsuit in which she and the Sony Music producer were joint defendants. In a 2011 deposition that was unsealed during her most recent lawsuits, Kesha stated that "Dr. Luke never made sexual advances to me." This seemingly damning deposition proved pivotal in Justice Kornreich's rulings against the singer.
If Kesha's case in California doesn't proceed or falls apart as a result of her dismissal in New York Wednesday, she is still legally obligated to fulfill her contract with Dr. Luke — if she wants to continue making music, that is. Barring any kind of out-of-court settlement, there's a very good chance Kesha's career could effectively be over.