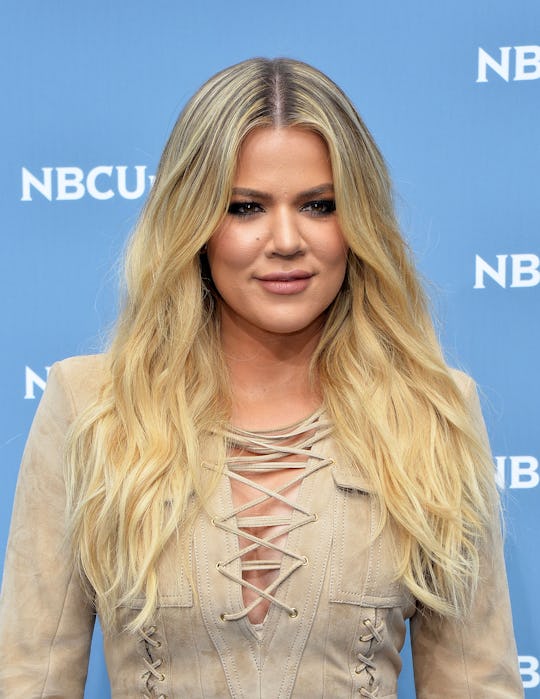 Slaven Vlasic/Getty Images Entertainment/Getty Images
Kardashian Vs. Thompson: What Will Khloe's Baby's Last Name Be?
OK guys, Khloé Kardashian (quite possibly our favorite of the Kardashian-Jenner clan), confirmed the rumors that had been circling around for months that she and her basketball player beau Tristan Thompson are expecting their first child together. This will be the second baby for Tristan, who already has a 1-year-old named Prince Thompson, but a first for Khloé. So now we're wondering: Is Khloe's baby going to a Kardashian or a Thompson? Because both surnames are choice options.
If she's following in the footsteps of the biggest motherly figures in her life, then we know what the answer will be: Thompson. Kourtney's three children, Mason, Penelope and Reign all bear the surname Disick after their father, Scott Disick, and Kim's two adorable tots, North and Saint, both have last names that take after their dad, Kanye West. (You may have heard of him.) But the first person to observe the popular tradition of adopting the father's surname, at least from of the famous Kardashian clan, goes to mama bear Kris Jenner. All of her kids, whether their name ends with "Kardashian" or "Jenner" have taken their dads' last name. In fact, we're not even sure what Kris' last maiden name is — she has been a Jenner for as long as we remember, and then a Kardashian for years before that. In case you're wondering, it's Houghton. Thanks, Google!
Whether Khloé and Tristan's baby is Kardashian or Thompson though, one thing's for sure: they are going to be ballin' — pun intended. But in all seriousness, each name has its own benefits, and possibly also hindrances. Let's break them down:
If The Last Name Is Kardashian
Kardashian = Power. There is no doubt about it in this day and age. Even if Khloé and Tristan opted to give their child a totally random moniker, like Emily Smith or Peter Jones (these are the most popular last names according to Geneanet), because there is no escaping the paparazzi and society's insatiable appetite for all things Kardashian-Jenner related, there is no way this kid is going to be able to fly through life unnoticed.
That being said though, there are so many perks that they'll definitely enjoy as a Kardashian once they realize what's going on. Want to get into the hottest restaurant? Check. Oh you like that shirt? Have it off my back! I'm such a fan even though you barely have two teeth to your name. But can you at least Instagram and tag me in it? Don't want to stand in that line at Disneyland? No sweat!
If The Last Name Is Thompson
This is 100 percent a more discreet name than Kardashian, that's for sure. But as mentioned above, this kid is going to be famous before they have even taken their first breath. Tristan does have a child named Prince with former partner Jordan Craig. Prince who recently celebrated his first day, according to People, bears his daddy's last name: Thompson. And honestly, he's led a pretty private life, relatively speaking of course.
The biggest perk of having a less grandiose name? Privacy, of course. Whether that applies to making reservations as an adult or filling out some paperwork at the DMV — probably the most democratic place on earth — the last name "Thompson" won't raise many flags.
If The Last Name Is Kardashian-Thompson or Thompson-Kardashian
How modern of them! Even though none of Khloé's siblings or parents opted for the hyphenated last name for their own kids (Kim uses Kardashian West but her kids go by just West) we would not put it past Khloe to go rogue and take a more unconventional route. She's always pushing boundaries and rustling her mom's feathers, so I'm sure that Khloé will do, as Khloé will do, which is exactly what she wants to do. The only fight here is going to be which name gets to go first, and if we had to put our money on it, it's on Kardashian, of course.
Check out Romper's new video series, Romper's Doula Diaries:
Watch full episodes of Romper's Doula Diaries on Facebook Watch.