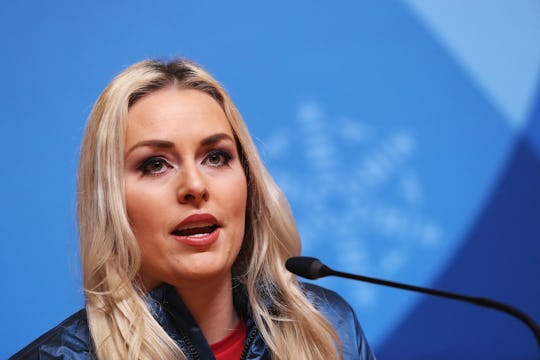 Ker Robertson/Getty Images Sport/Getty Images
The 2018 Winter Games *Might* Be Lindsey Vonn's Last Olympics & Here's What She Could Do Next
It's not easy to step away from doing something you love. Whether it's your career, a relationship, or even just a hobby, leaving something behind can be a tough pill to swallow. So now that one of the best skiers in history is likely moving on from this part of her life after bringing home a bronze from the PyeongChang Winter Games, what will Lindsey Vonn do after the Olympics?
The 33-year-old alpine skier has acknowledged that retiring will be difficult, but it might be the best thing for her. After all, Vonn has had an incredible career thus far, but also sustained some pretty serious injuries over the course of that success.
"In my mind and in my heart, I would love to keep going another four years, but physically I just don't think that I can do it," she told Cosmopolitan after her event in the 2018 Winter Olympics. Vonn took home the bronze in the downhill, according to The New York Times, something she feels good about. "I'm really happy with my performance. I gave it everything I had," she told Cosmopolitan in the same interview.
So, what's next for the Minnesota native? Although she may be done competing at the Olympics, that doesn't mean Vonn will never ski again. After all, she's already got her eyes on another competition, and Vonn seems confident that she isn't done breaking records and remaining a legend, both in her sport and out.
So, is Vonn retired from skiing now that the 2018 Winter Olympics are over? The short answer? Heck no. In her Cosmopolitan interview, Vonn explained her next goal:
I'm still going to be racing in the World Cup. There's one more record that I would like to break before I retire, which is the World Cup win record. There's one man [Ingemar Stenmark] that has 86 victories, and I have 81. I'm definitely going to keep skiing until I can get to that number.
Clearly, Vonn is ready to be a role model for girls and athletes everywhere. If she can take over Stenmark's World Cup record, then she'll have accomplished so much in her life. Of course, that record isn't the most important thing Vonn has set; she's also thinking about a completely new change-up in her career.
After the Olympics, it seemed as though Vonn may be considering giving acting a go. Speaking to Savannah Guthrie on TODAY on Feb. 16, Vonn explained that one of her good friends, Dwayne Johnson, actually offered to help her out if she wanted to seriously pursue acting. "He said he's going to help me after the season and I can follow him around a little bit and see if it's really something that I would potentially be able to do," she told TODAY.
Of course, there's no telling whether or not Vonn will want to go into acting or take Hollywood by storm, but it's a pretty safe bet that if she does want to give it a shot, she'll find success. However, other than her career, Vonn is also planning to take some time off after the Olympics.
Continuing her interview with Cosmopolitan, Vonn explained that she was in dire need of a break after the PyeongChang Winter Games. In fact, Vonn might be taking a pretty fabulous vacation pretty soon, as she explained to Cosmopolitan:
I'm going back to my house in LA; I'm just going to take some downtime and relax. I've been going for eight years getting ready for these Olympics, so I think I just need a couple of days off. We're also working on a vacation with my other teammates from the U.S. team on the alpine side — [it will] probably in the Spring with all of us and some former ski team members, as well.
Vonn has definitely earned a break. She's "the oldest woman to have medaled in Alpine skiing," according to Vanity Fair, and she's been pretty much unstoppable since she began decades ago. And if that doesn't warrant a relaxing vacation, nothing does.
Check out Romper's new video series, Romper's Doula Diaries:
Watch full episodes of Romper's Doula Diaries on Facebook Watch.