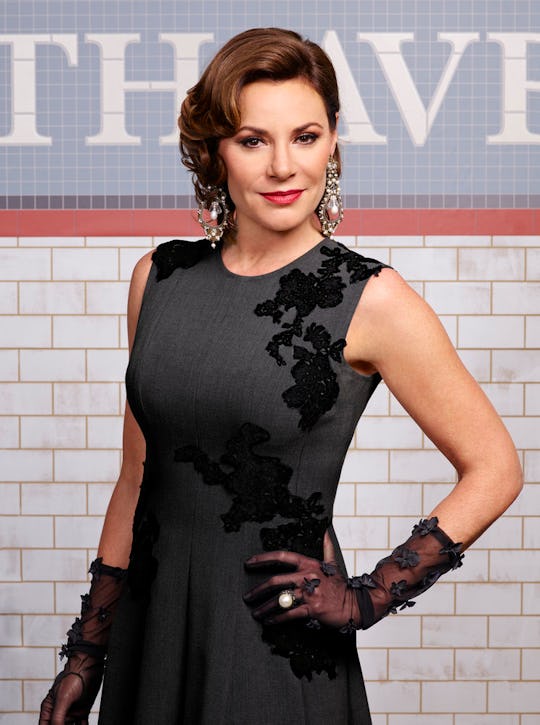 Mathieu Young/Bravo
What Will Luann De Lesseps' Wedding Be Like? The 'Real Housewives' Nuptials Will Be Lavish
Back in February, Countess Luann de Lesseps announced that she was engaged, this time to businessman Tom D'Agostino Jr. The pair got engaged after just a few months of dating. Reportedly, Tom wanted to surprise Luann with the proposal on Valentine's Day on their vacation in Vail, Colorado, but just couldn't wait and popped the question with a (gigantic) canary diamond ring a few days earlier. Though Luann's upcoming marriage will mean she will lose her courtesy "Countess" title, she wouldn't be Luann if her nuptials were not extraordinary, and befitting of everything the cool and classy lady stands for. I obviously can't know for sure exactly what Luann de Lessep's wedding will look like, but I can definitely speculate.
Will it be at the Plaza, Donald Trump style? A traditional St. Patrick's Cathedral wedding? Or maybe Luann will go slightly quirky and have it at the Zoo. Will there be live animals involved? Live entertainment? The photobooth to end all photobooths? Like almost all Real Housewives, Luann certainly knows how to throw a party, and she will spare no expense to make this one her most wonderful yet, which is why I'm letting my imagination basically run wild.
Here are my predictions for the de Lesseps/ D'Agostino wedding.
The Guest List
There will be over 500 guests invited, among them Andy Cohen and the entire Bravo family. (Carole will probably not go though, preferring to stay at home for a vegan cuddle-fest with her boyfriend, Adam and dog, Baby).
The Wedding Party
Sonja will be maid-of-honor, and will most likely wear something jewel-encrusted and figure hugging. Some of the more conservative attendees may be scandalized, but Sonja doesn't have time to worry about those people.
The Ambiance
The Countess likes to make a splash, so I am imagining an extravagant ceremony. In my imagination live swans will guard the aisle, and she will stand under a canopy of a thousand white roses as a cellist plays "Money Can't Buy You Class," and her dress will be an understated sheath designed by Carolina Herrera. (Sonja and Dorinda are getting emotional. Ramona looks distracted).
The Reception
The reception will probably be in an elegant ballroom, or perhaps on a yacht, with live musicians and a few very busy bartenders. Luann is frankly tired of everyone's alcohol-policing, and on her day, everyone is just going to party and have fun.
I'm thinking Champagne towers, specialty ex-Countess cocktails, and all of her girlfriends' liquor companies represented, of course, including Skinnygirl, Ramona Pinot Grigio, and maybe even Sonja's Tipsy Girl Prosecco, if it ever gets off the ground.
The Entertainment
Though the guests beg her, Luann will not perform one of her singles, though the band will do live renditions, to everyone's delight.
Basically, Luann is going to throw the world's most lavish party and I already want to crash it.