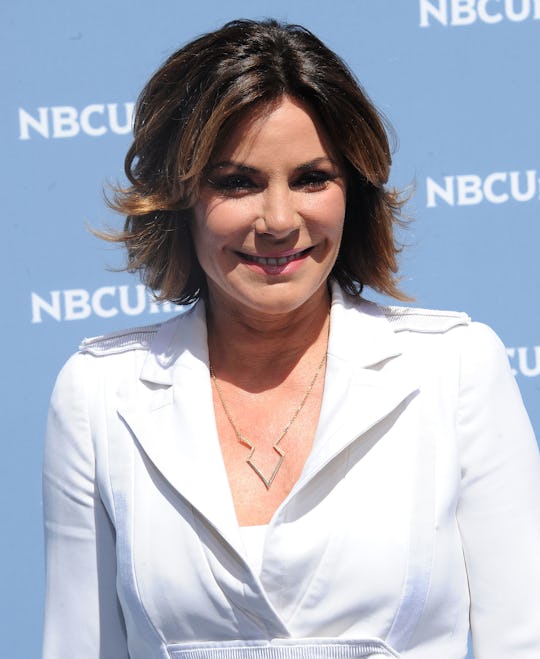 Brad Barket/Getty
What Will Luann De Lesseps' Wedding Dress Look Like? The Housewife May Have Three
Let's all be real here for a second and admit that "understated" has never exactly been soon-to-be ex-Countess Luann de Lesseps' thing. Therefore it should be no surprise to anyone that her impending nuptials to Tom d'Agostino Jr. are bound to be over-the-top glamorous, fabulous, and elegant, of course. But what will Luann de Lessep's wedding dress be like? I should say dresses, because Lu plans on wearing three different gowns throughout the evening. Because, as she explains, it's a big occasion.
In an interview with E! News, Luann discusses exactly what she'll be wearing for the big day, which is scheduled for this upcoming New Year's Eve, which just also happens to to be her soon-to-be husband's 50th birthday. As three events in one, her wedding day, Tom's birthday, and a national holiday, I suppose that deserves three different outfits. Luann said that she wants a long, traditional, lacy, and slightly sexy gown for walking down the aisle, because as it is Tom's only wedding, she wants him to have a "real bride." Then she'll be wearing a shorter dress for the song she's going to perform for him (I can only imagine what that is going to be like), and a wildcard party dress for the end of the night. Here is what I imagine she'll be wearing.
The Ceremony
Luann has said she wants to walk down the aisle to something lacy and form-fitting while still being traditional. And of course she'll have a veil. I think this open-backed beauty by Amsale is just the ticket, don't you?
Serenade
In case you'd forgotten, and I wouldn't blame you if you had, Luann is also a singer. Sort of. Remember her heavily auto-tuned and delightful track "Chic, C'est La Vie"? I sure do. Well Luann plans to use those singing, ahem, talents to serenade her soulmate on their wedding day, and that song deserves a sassy little number to go along with it. Something like this gorgeous dress by Christian Siriano would show off those notes and her excellent taste.
Wildcard
What says party like fringe? Nothing, nothing says party like fringe. Which is why I think Lu will choose to end her night by dancing away in something like this classic and elegant frock by Alyne by Rita Vinieris. No matter what she chooses, there's no doubt she'll be chic (c'est la vie).